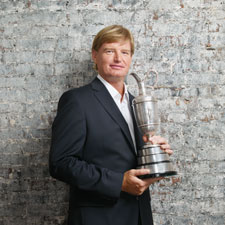 Ernie Els holds the Claret Jug, the trophy for the Open Championship. It's the second time that he has captured that tournament.
The Big Easy
With a focus on helping find a cure for autism, Ernie Els balances family, golf and a wine business
(continued from page 4)
Like Tom Watson's late-career putting woes, Els had been getting advice from hither and yon. "I had guys in South Africa, farmers, building me putters," he says. "I've got putters in my garage back home in Florida. I have all kinds of stuff, letters, lessons, putt with your eyes closed. Even people in the galleries [saying things]."
It was Calder's therapy that worked, that got into his head, that gave him belief. He hopes that belief carries him to more major championships into his late 40s. But his career could wind down or even end by the time he is eligible for the Champions Tour. It's then, Els thinks, that his other interests are likely to take over. He has a particular affection for his wine business and the winery.
"It's something I feel I'm really going to spend more time on after my playing days," he says. "When I'm 50, things might change. I don't think I will play a full schedule in the U.S. We've been going hard at this playing golf. I still feel I can win big ones [his voice pinches for emphasis]. What I'm trying to say is that's why I'm going so hard at golf because I think when I'm done playing I'm going to be quite done and spend much more time with the wine business. That will be a time when Samantha will be starting college. Who knows, she might love Stellenbosch University, a great university. She might just want to go to South Africa and I'll move down to South Africa.
"I don't get there enough. I've got a great winemaker [Louis Strydom], thank god. He's been with me every year since our first vintage, which was in '99. We have [178 acres]. From the high end, the Ernie Els Signature, down to the Big Easy wines, the whites also now. It's a well-diversified wine portfolio. It is successful. We turn a profit. I speak to the guys on almost a daily basis. There is talk of going the Greg Norman way, of getting really big distribution."
And there is more, much more, to his life and he continues talking in a stream on enthusiastic consciousness.
"We've got design. Asia is very exciting for us. We are doing a lot of stuff in Malaysia. We're doing these Els Clubs, a concept that has kicked off nicely for us. We are doing one in Dubai, we have done one in South Africa, we are probably doing another one in South Africa. The Malaysia project is also an Els Club. We've done these Big Easy restaurants, South Africa, Dubai. We are looking at putting them into some hotels. A steakhouse, wine experience, fun places, the way we like to enjoy life."
And what a life it has been.
"Ernie's been a global player more than anyone of his generation," says Price. "If Gary Player, Arnold Palmer, Jack Nicklaus hadn't played around the world, not just as competitors but as ambassadors of the game, as inspiration to young people, golf wouldn't be where it is today. Ernie is very much in that mold, and he's very popular around the world."
Back home in South Africa, Johann Rupert has followed Els' career closely. Rupert, owner of the Swiss-based luxury goods company Richemont among other enterprises, has a deep baritone that enhances his sincere feelings for Els.
"For more than 20 years my friendship with Ernie grew and grew," Rupert says. "I prize honesty in a person and I prize loyalty. Ernie is both of those. He's an extremely loyal person through good times and not so good times. I'm sure after his Open victory he rediscovered a lot of friends he didn't remember he had. Ernie is a friend throughout. He is always there to lend moral support to me, my family and anyone else who is a true friend. He is always the same to his friends.
You must be logged in to post a comment.
Log In If You're Already Registered At Cigar Aficionado Online