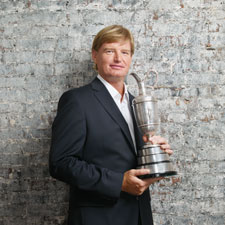 Ernie Els holds the Claret Jug, the trophy for the Open Championship. It's the second time that he has captured that tournament.
The Big Easy
With a focus on helping find a cure for autism, Ernie Els balances family, golf and a wine business
(continued from page 3)
Yes, there had been some low points. Caddie Ricci Roberts, who has carried Els' bag for all four majors championships, was there for those as well. Els and Roberts have gone through several separations since he started carrying the bag in 1992. "We've been married and divorced more times than Richard Burton and Elizabeth Taylor," says Roberts.
As he watched the smiles on Els' face after the Open victory at Lytham, he also knew there was a great sense of relief. "This Open Championship, coming 10 years after his last major, has to be one of the highest highs of his career. I would think 2004 would be the lowest low. Phil [Mickleson] makes that putt on 18 to win the Masters. At the U.S. Open he plays in the last group with Retief [Goosen] and shoots 80. The Open Championship he loses to Todd Hamilton in the play-off. At the PGA Championship he three-putts the last green to miss the play-off. To have a chance to win all four majors and come away with nothing, it took a while for him to get over that."
Els didn't win on the PGA Tour from 2005 until 2008, but he did win tournaments worldwide, in Great Britain, South Africa, Dubai, Asia. In 2010 he had a two-win season on the PGA Tour and seemed to be going along swimmingly. Early in 2011 his putter sprung a leak and he couldn't seem to stick a cork in it. It became increasingly frustrating, and when he missed a few two-footers, it became increasingly maddening. He didn't win anywhere in 2011, and much to his personal distaste for the thing, he went to the belly putter, something he had described as cheating.
"I went to the belly, thought that was my way out of it," says Els. "Then I found  going to the belly—all the guys think its easier because  it's attached and you can make a better stroke with it—but you have to get used to it, and that took me over a year. I'm not totally for it, and while it is there and other guys are using it, if this is going to be my way out, let me give it a go."
It wasn't the solution. The solution was Dr. Sherylle Calder. Calder is a visualization coach at the Sports Science Institute of South Africa who has worked with many of the country's star athletes, among them two-time U.S. Open winner Retief Goosen. Johann Rupert introduced Els to Calder at a tournament in South Africa. Calder conducts a program she calls Eye Gym and believes that the problems many athletes encounter are rooted in their eye skills. Els had known about Calder before, but since his putting had been a great strength, he felt no need to use her services. Seven months after meeting her in January, he was thanking her at the Open victory ceremony.
"She showed so much confidence in me. Teachers and these guys always want to analyze you, analyze your stroke and your posture, da-da-da, looking at that as the answer when that's not the answer," says Els, his voice rising. "The answer was between the damn ears." Els claps the side of his head with his substantial hands, embracing the thought that it was his brain and not his stroke that was the culprit.
"She told me you have too much talent, we'll get you out of this, you'll get confidence and you'll win a major when no other person in two years would have gone as far as saying that," says Els. "She had the nuts to say it."
And this is where his son Ben's daily routine, of waking at 10 minutes of six, of coming into his parents room and waking them, of going to the movie room downstairs where he has his "foodies" of fruit and yogurt, of then getting his eggs and bacon, of putting on his school uniform and leaving for school at 7:30, comes into play. "He is so into a routine. His life is so simple, and so functional, it's scary," says Els.
When Calder told him he needed a putting routine, it was then that his son's life routine came into play. He knew he needed one.
"She said you have to get into your routine, you have to believe in your routine," says Els. "When we started working the first week, she asked me to do what you normally do. I said I don't usually have a routine. She was very surprised. She started giving me a routine, that's how screwed up I was. I didn't have a routine of looking at a hole once or twice, or looking at a spot. So we started basically from scratch. We got into some kind of routine with my left eye. I'm a left-eye dominant person, my left eye has to be on or behind the ball. Getting my eyes quiet, not so full of bloody nerves. Really just getting things quiet and then finding a routine for myself."
You must be logged in to post a comment.
Log In If You're Already Registered At Cigar Aficionado Online