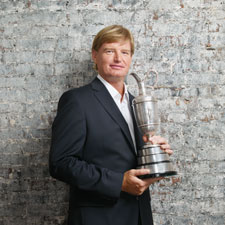 Ernie Els holds the Claret Jug, the trophy for the Open Championship. It's the second time that he has captured that tournament.
The Big Easy
With a focus on helping find a cure for autism, Ernie Els balances family, golf and a wine business
(continued from page 2)
"After a year both myself and Liezl, we both could see something wasn't quite right, not normal," says Els. "Unfortunately, most parents with autistic kids go through that same rigmarole when they take them to the family doctor and he says, no he's just a little slow. Then you wait six months and you go to a guy you think is a bit more qualified and the guy doesn't know what's going on. We, myself and Liezl, basically diagnosed him ourselves as autistic. As he got older we got more and more into it.
"The beginning phases of your life with autism is a scary situation. You don't know if you can handle it. As a parent, when our daughter was born, parenting was quite natural. With kids with autism, you don't know. How are we going to raise a child with autism? There has to be an expert who knows exactly how to raise a child with autism. Well, that's not true. You learn with your child. You try to figure out the best way forward and hope your instinct is the right instinct."
Now, instead of just putting and chipping and honing his swing, Ernie Els faced a bigger challenge. Autism, a term used to describe a group of complex developmental brain disorders, can't be cured. You can only cope. The coping process first starts with grieving, and that's something that Els now knows just delays getting on with things.
"Finding out that he had autism, selfishly I felt sorry for myself, 'Why the hell did this happen, was there something wrong with the birth, something wrong with the doctor, was there a lack of oxygen somewhere?' Maybe not enough oxygen to him and something happened in the brain. But I made peace with it because I was there, I was there at the birth and nothing sinister happened. So this child was born with this disease. You start making peace with it. Okay, you are not going to be throwing a ball with this kid, probably, doing things that normal dads do with their 4–5 year olds. That hurt for a while.
"But right now, to be honest, looking back I wasted a bit of time going through that almost-grieving process, of why this and that. If I can give any advice to parents after they find out their kid is autistic, don't waste that time trying to find why this happened. It is what it is. You've got to move on now."
Els and Liezl knew they had to do something. Els' global persona could cast a spotlight on autism, bring much needed attention to an affliction that seems to be on the rise.
"For quite  a few years, myself and Liezl, we weren't quite on the same page because I wanted to try and help with the science of it, finding a cure for it. Liezl said that takes a lot of money and you have to get the right researchers, the right scientists. She said why don't we help our local community. That's what is really needed immediately, a real center for these kids. This could be a satellite center for people around the world where we could do our own research in a way, in a school, a proper school, a proper center for these kids."
The first step was a pro-am golf tournament which was the brainchild of Marvin R. Shanken, the publisher and editor of Cigar Aficionado and Wine Spectator magazines. He approached Els upon hearing his announcement about Ben's autism during the awards ceremony after he won the 2008 Honda Classic. When the pro-am successfully raised nearly $750,000 its first year, the discussion of the foundation began in earnest. Shanken is on the board of the foundation, and is the cochair of the Els for Autism Charity Pro-Am golf tournament, which is held each year at PGA National in Palm Beach Gardens, Florida, along with Johann Rupert, a South African business magnate and a longtime friend of Els.
Once the foundation got off the ground, Els and Liezl and those who surround them expanded the scope of the foundation's goals. The plan includes a center for autistic children in the Palm Beach area. It is designed to be wired into the world so that parents in South Africa, Brazil, Japan, in every continent, could take advantage of research and advice at the highest levels.
"I have to mention Cigar Aficionado and Marvin. We have this tournament in March in Florida," says Els. "Marvin has become a great supporter and dear friend of ours. It was really his idea. Most of the amateurs are his friends. He basically asked them to put up the money to play."
Out of that pro-am grew the Els for Autism Golf Challenge, a series of 30 events across the U.S., Canada and the United Kingdom that culminate with the Grand Finale in Las Vegas hosted by Els and a slew of his friends on the PGA Tour. The goal is to raise $30 million for the Els Center for Excellence, a facility that will provide education and therapy for children and young adults and a global digital learning  platform for families, researchers, therapists and teachers. "The autism community, there is this little buzz going on underground, everybody emailing everybody saying my child is not eating this, or not sleeping at this time, so what have you done?" says Els. "There are these connections going on. We can make these connections public. It's good for other people to see what these kids are like. We will have a camera in a room 24/7 and through that camera some person in South Africa can be learning and watching what teachers are doing with these kids."
As he has throughout his career, Els has risen to the challenge of his son's affliction and has worked it into his life in a manner that still meant he could compete at the highest levels. As Els' persona morphed from a topflight player into a brand, with a golf course design business and a burgeoning wine business with a winery in the Stellenbosch region of  South Africa, he has been able to absorb it all with aplomb.
You must be logged in to post a comment.
Log In If You're Already Registered At Cigar Aficionado Online