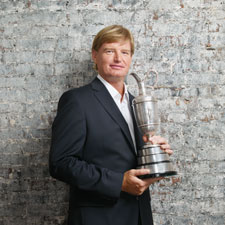 Ernie Els holds the Claret Jug, the trophy for the Open Championship. It's the second time that he has captured that tournament.
The Big Easy
With a focus on helping find a cure for autism, Ernie Els balances family, golf and a wine business
(continued from page 1)
"This is my passion as a person, this is my love, it's what I do. Playing golf, this is what I felt I was put on the planet to do. It's something I love so much." From the time he was a teenager in South Africa, from the time he decided that golf was his game and his father put a practice green in the backyard, Els has had an absolute commitment to being a world-class player.
Nick Price, the Zimbabwean who developed his own world-class game in South Africa, remembers seeing Els as a youth and being taken, like so many others, with his swing. The scrawny six-foot, three-inch youth was graceful and fluid, his swing arc so wide that it could wrap itself around the Cape of Good Hope. Price saw Els turn first into a tour winner then a major championship winner. He saw Els earn the nickname "Big Easy" for his style of play and style of life. He thought it was a name that was appropriate and misleading at the same time.
"When he was about 18, I watched  him from a distance hitting balls on a practice range and he had this lovely graceful, powerful swing," says Price. "Once he made it out on tour in Europe then came to the U.S. it was apparent he had incredible talent. Because his swing is so graceful, one thing that can be overlooked is how soft his hands are. He hits these wonderful soft chips and pitches. He is one of the best chippers of the ball ever.
"But I want to say this so it doesn't come out negative. The Big Easy title is a bit of a misconception. Deep down inside he's as driven as anybody, as tough as anybody. The real Ernie Els is a very tough competitor, very astute, very aware of everything that goes on around him. You don't win 60 tournaments around the world, four majors by being a gentle giant."
It was Els' U.S. Open victory at Oakmont in 1994, in the land of Arnold Palmer, that established his pedigree and his foothold in America. The victory was important way beyond his name on the trophy and the big check. "It gave me a place to play for 10 years," Els says. And he made the most of it, piling up PGA Tour wins from the Westchester Country Club in New York to the Waialae Country Club on Oahu.
Westchester became a particularly good place to see the Big Easy game on the course and the Big Easy lifestyle on the Sports Terrace. He won at Westchester back-to-back in 1996 and 1997. Life was free-flowing then, just he and Liezl, caddy Ricci Roberts and friends. After morning rounds at Westchester, Els and Liezl, Roberts, Stuart Swanepoel, Maura Nolan and assorted other friends used to gather at a corner table of the club's open-air Sports Terrace under a brightly covered awning, right at the intersection of two walkways. There were plenty of pitchers of beer, bottles of wine, glasses of strawberry daiquiris and loads of laughs. Els would acknowledge the fans who called out to him, and his cadre would often station themselves there for hours. The Big Easy was accessible, affable and approachable.
"Those were the days. We were very carefree," says Els. "The [Sports Terrace] became an institution for us. We did that for about four years. We sat on the terrace, we had our one waiter, Jose. We are still very much like that. But obviously life has changed a little bit. We've changed a little bit. But in many ways we are still like that. We had the pitchers of beer, the wine. We still have those things, but not at the golf course anymore."
Golf and life flowed along about as fluidly as his swing. The victories kept coming, a second U.S. Open in 1997 and his first British Open in 2002, plus scores of wins all around the world. He, like all his contemporaries, found himself overshadowed by Tiger Woods. In 2000 Els finished second at the U.S. Open and the British Open to Woods, and admitted that if he had played his very best he would not be able to beat him.
In 1999, the Els' first child Samantha was born. "I was there at the birth and you naturally take to parenthood, don't you?" says Els, again bending forward in his chair for emphasis. "It was a wonderful change in our lives."
Three months after his British Open win in 2002, Ben was born. Things changed, forever.
You must be logged in to post a comment.
Log In If You're Already Registered At Cigar Aficionado Online