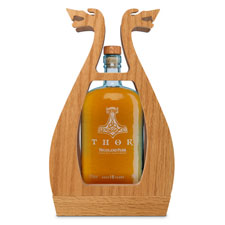 Thor's 104.2 proof provides the punch that distinguishes it from other Highland Park releases.
Highland Park Swings Thor's Hammer
(continued from page 2)
With Thor: The understated graces of the cigar get called out onto the dance floor by the big flirt of a whisky and get sweeter and toasty warm as well as fruity. The whisky calms a bit as it becomes entranced with its date and the substance of peat and toast.
With 25-Year-Old: The cigar rolls over and wants to be scratched by this charming whisky. It offers up its inner toast and sugar sweetness, and the whisky just complements it.
Casa Magna Box-Pressed Toro (88 Points, August 14 issue of Cigar Insider) - A very dark and oily squared-off cigar with an even burn. It starts out a bit papery but warms to show a woody, leathery character and apple-like sweetness.
With Thor: After a moment the Casa coaxes barley and earthiness from the suddenly reticent Thor and then releases it own quotient of fruit, heartiness, nuts and toast.
With the 25-Year-Old: Again, the Casa gains nuts plus nougat and a bit of an herbal note, while the 25 warms up quite a bit, becomes even rounder and heartier with nuts and toasts. At times it's hard to tell whose trading what in the bargain.
You must be logged in to post a comment.
Log In If You're Already Registered At Cigar Aficionado Online