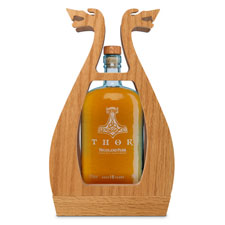 Thor's 104.2 proof provides the punch that distinguishes it from other Highland Park releases.
Highland Park Swings Thor's Hammer
(continued from page 1)
NOSE: If you flirt with the high-proof bouquet, you'll fall in love with the pretty notes behind the veil. The first sense is balls-out fruitiness, an almost Cognac nose with overwhelming pear and solid honey. The underlying oil and peat of the whisky then releases a floral character like tea roses.
PALATE: Succulent pears are the first sense of the flavors that grip you right from the start. The alcohol quickly fades and out comes a moment of bread and honey, followed by candied-red berries and tropical fruits. Very complex.
FINISH: The feeling that you've just sucked the tender heart out of a piece of hard candy lingers until you let the toast and peat redefine the whisky once again.
Highland Park 25-Year-Old (96.1 proof or 48.05 percent alcohol by volume, $384.99)
APPEARANCE: A rich, deep reddish color that verges on tawny port. The legs sob down the glass like adolescent tears, swollen, but in a hurry.
NOSE: This one is a wallflower compared to other coquettish Thor. But keep at it and the same kind of meaty fruit notes suddenly appear and then turn to tender tea leaves and whiffs of earth and toast.
PALATE: This whisky earns the Velvet Hammer sobriquet. A subtle nuanced whisky turns to a collection of meaty fruits (pears, peaches, apples) with the zest of eucalyptus. Far more toward syrupy than its younger sibling, it also packs potpourri, cinnamon graham cracker and honey.
FINISH: And then all the spices traipse out and mingle with an underlying doughiness in the whisky and fill soul like a rich dessert.
CIGAR PAIRINGS: We picked two cigars rather different in body weight, a milder La Palina and a fuller Casa Magna, and were surprised at how well both whiskies matched up with the span.
La Palina Collection Goldie Laguito No. 2 (89 Points, August 28 of Cigar Insider) - Woody and floral notes elegantly converge with each puff of this pigtailed panetela, which draws and burns evenly. A touch of peppery spice also comes through.
You must be logged in to post a comment.
Log In If You're Already Registered At Cigar Aficionado Online