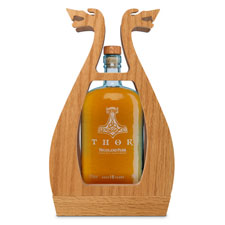 Thor's 104.2 proof provides the punch that distinguishes it from other Highland Park releases.
Highland Park Swings Thor's Hammer
When you have Scotland's northern most distillery (Highland Park) on a remote island (Orkney) that was once part of Norway, it's very tempting to invoke Norse gods once in a while. And so we have the Valhalla collection, which recently debuted with Thor and is planned to include three other single-malt Scotches, also named for Viking deities, in the coming years.
At a glance, it's easy to be captivated by the mere packaging: a rectangular bottle encased in a wooden frame akin to a Viking ship, with serpentine prows facing in opposite directions. But it would be a mistake to dismiss this 16-year-old, limited-release one-off as nothing more than a pretty box. The formidable whisky inside is a fascinating departure for Highland Park, even as it contains its basic DNA.
The 104.2 proof (52.1 alcohol by volume) provides the punch that distinguishes this malt from other Highland Park releases. Martin Daraz, the company's brand ambassador in U.S., says that Highland Park is often referred to as the "velvet hammer. Well, Thor might just be the hammer."
And it does pack a wallop while never forgetting the signature factors of its Orcadian upbringing (cold climate, prevailing winds, particularly aromatic peat) and creation at the Highland Park (traditional floor maltings and use of Sherry barrels in aging). Like the 25-Year-Old, it is the product a mix of first-fill Sherry casks and previously used vessels. In the case of Thor, some of the casks are made with American, as opposed to Spanish, oak.
Daraz says that Orkney peat smells and tastes markedly different than the peat used in Islay and makes a distinct impression even while its only used in increments of two to four parts per million (far lower than some of the peat bombs that weigh in above 50 ppm). Its effect is a more nougat-like smoke with hints of chocolate.
Highland Park 25-Year-Old Scotch.
Thor, as the leading member of the Valhalla selection, will be released in the greatest quantity (23,000 bottles worldwide, 1,500 in the U.S.). Subsequent expressions will be at reduced numbers, and the company expects that to increase their collectibility. Loki will be the next release, sometime next year. Other divine namesakes will be Freya and Odin.
Just for fun we decided to taste in combination with its older brother, the 25-Year-Old, against a brace of cigars.
(More tasting notes and cigar pairings on next page)
Highland Park Valhalla Collection - Thor (104.2 proof or 52.1 percent alcohol by volume, $199)
APPEARANCE: Light gold, champagne color. Sturdy, quick, no-nonsense legs.
You must be logged in to post a comment.
Log In If You're Already Registered At Cigar Aficionado Online