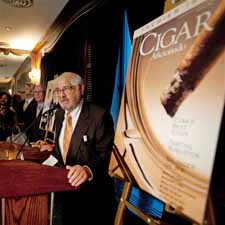 Photos/Jonathan Lockwood Smith
Marvin R. Shanken, the editor and publisher of Cigar Aficionado, addressing the crowd.
Cigar Aficionado Celebrates 20th Anniversary
Andrew Nagy
Posted: September 14, 2012
(continued from page 2)
Next up was Ernesto Perez-Carrillo, the owner of EPC Cigar Co. and the former owner of the La Gloria Cubana brand. Shanken started to tell the story about the first profile on Perez-Carrillo that he published in the second issue of the magazine. At the time, Perez-Carrillo  was rolling La Gloria Cubana in a small factory in Miami. Shanken had visited the factory and fell in love with the brand. After the magazine ran the profile on Perez-Carrillo, the cigarmaker told the crowd that he came to his booth at the industry trade show the next day only to see a line of eager retailers ready to buy his cigars.
It was then time for Nestor Plasencia, the owner of Plasencia Tobacco, a cigar empire that Shanken said spans Nicaragua and Honduras, to receive his plaque. Shanken spoke about how Plasencia emigrated to Nicaragua from Cuba with his tobacco-growing at the age of 15 after losing the business to Castro. He talked about how Plasencia helped re-build the family business, which now employs 5,000 people who roll more than 25 million cigars for some of the industries biggest names.
Shanken then honored Manuel "Manolo" Quesada, the owner of Manufactura de Tabacos S.A., owner of Casa Magna, the 2008 Cigar of the Year. Shanken talked about how Quesada was the first cigar manufacturer to work out of the Santiago Free Trade Zone when he built his factory there in 1974. Quesada received his award, but not before crediting Cigar Aficionado with creating the cigar boom of the 1990s.
The last Hall of Fame recipient was Josè Seijas, retired vice president and general manager of Tabacalera de Garcia Ltd. in the Dominican Republic, considered to be the largest cigar factory in the world. Shanken highlighted how Seijas was responsible for many innovations in that factory, which produces famous brands like Montecristo, H. Upmann and Romeo y Julieta, including the idea of dividing workers by the brands they roll.
After the ceremony, the crowd spread back out into the rest of the Grand Havana Room. Drinks were refilled, cigars were relit, and the revelers continued the celebration into the wee hours of the night.
Click here to view a slideshow of the 20th anniversary celebration
You must be logged in to post a comment.
Log In If You're Already Registered At Cigar Aficionado Online