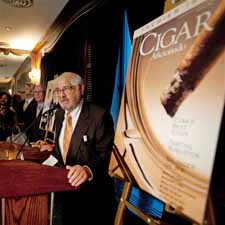 Photos/Jonathan Lockwood Smith
Marvin R. Shanken, the editor and publisher of Cigar Aficionado, addressing the crowd.
Cigar Aficionado Celebrates 20th Anniversary
Andrew Nagy
Posted: September 14, 2012
(continued from page 1)
Shanken started his speech by thanking executive editor Gordon Mott, saying the magazine's success "couldn't have happened without him." He went on to offer a few highlights from the magazine's twenty years, beginning with the popular Big Smoke events.
"We've done [Big Smokes] for 20 years," said Shanken. "We've done them in 16 different cities, and over the years, more than 250,000 people have attended."
Next, Shanken spoke about his charitable affairs, in particular his Night to Remember charity dinners  and Els for Autism pro-am golf tournament he created with pro golfer Ernie Els. He said the Night to Remember dinners have raised more than $20 million for prostate cancer research, while Els for Autism has taken in $4 million to help fight autism.
The microphone was then handed over to former New York City mayor Rudolph Giuliani. Giuliani offered an anecdote about how he first started smoking cigars, a story that involved his father forcing him to smoke a White Owl in an attempt to get him to stop smoking, which drew plenty of laughs. The mayor then said some solemn words about the eleventh anniversary of 9/11, and recalled the time when Shanken put him on the cover of Cigar Aficionado, which was only a few months after the tragic events.
After Giuliani concluded his speech, Shanken then moved on to "some serious business:" the Hall of Fame induction ceremony. Before starting the ceremony, though, Shanken wanted to mention Carlos Fuente Sr., the sole-surviving member of the original Hall of Fame class, which was inducted in 1997.
First up was Carlos "Carlito" Fuente Jr., president of Tabacalera A. Fuente y Cia, the maker of more than 30 million cigars in the Dominican Republic, including the highly-acclaimed Fuente Fuente OpusX brand. Shanken spoke about Fuente's cigar accolades, which includes being the first cigarmaker to successfully grow wrapper leaf in the Dominican Republic and having the Cigar of the Year in 2005. Fuente received his Hall of Fame plaque and spoke briefly, thanking Shanken and the crowd.
Hendrik "Henke" Kelner, president of Tabadom Holding Inc., which produces Davidoff and Avo cigars, was then honored. The head of the ProCigar association took to the stage and recalled the story of when he first met Shanken in 1987. Shanken acknowledged that his time with Kelner played a key role in the inspiration of the creation of Cigar Aficionado.
It was then time for Robert Levin, president of Ashton Distributors Inc. and Holt's Cigar Co., to receive his plaque. Shanken introduced Levin, telling the audience how Levin started his career in the industry at the tender age of 11 sweeping the floors of his father's cigar store. Shanken also noted Levin's tireless political efforts working with the Cigar Rights of America organization to protect cigar smokers' rights.
Shanken then introduced the Cuban-born Benjamin "Benji" Menendez, the senior vice president of General Cigar Co. Shanken spoke about how Menendez has rolled cigars in nearly every cigar-producing country, from Cuba, Nicaragua and Honduras, to the Dominican Republic, Jamaica, Brazil and the Canary Islands. Shanken remembered his first interview with Menendez in which the latter talked about how Fidel Castro seized his family's holdings.
After Menendez kindly accepted his award, José Orlando Padrón, the chairman of Padrón Cigars Inc., was then honored. Shanken told the crowd about Padrón's accomplishments, including being the first three-time winner of Cigar Aficionado's Cigar of the Year. Padrón then gave a heartfelt speech in Spanish while his son Jorge translated. The elder Padrón said the "history of Cigar Aficionado is one of the most beautiful histories he knows" and gave credit to Shanken for revitalizing the cigar industry.
You must be logged in to post a comment.
Log In If You're Already Registered At Cigar Aficionado Online