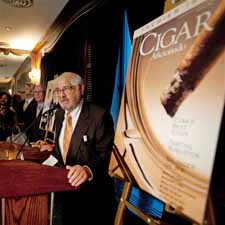 Photos/Jonathan Lockwood Smith
Marvin R. Shanken, the editor and publisher of Cigar Aficionado, addressing the crowd.
Cigar Aficionado Celebrates 20th Anniversary
Andrew Nagy
Posted: September 14, 2012
Click here to view a slideshow of the 20th anniversary celebration
A little more than 20 years ago, Marvin R. Shanken conceived an idea: he would start a cigar magazine, a guide for those with a passion for cigars and the Good Life. Many said it couldn't be done. Fast forward to Wednesday when about 200 people gathered in New York City's posh Grand Havana Room for the twentieth anniversary celebration of Cigar Aficionado magazine. It's safe to say the critics were wrong.
In addition to toasting 20 years of success, Shanken, the editor and publisher of Cigar Aficionado, inducted nine stalwarts of the cigar industry into Cigar Aficionado's Hall of Fame during an awards ceremony. With the addition of the Class of 2012, the total number of members in the magazine's Hall of Fame is now 15.
The evening kicked off at 6 o'clock with cigars and drinks. Grand Havana Room staffers served hors d'oeuvres while attendees smoked a fine selection of cigars and enjoyed a number of premium wines and spirits.
The men who represent the Hall's Class of 2012 had supplied the party with cigars. Attendees, which included luminaries of the cigar industry and their counterparts from the world of wine and spirits, were free to choose from a variety of brands, such as Ashton Cabinet Series, Casa Magna, Davidoff Series Aniversario, San Cristobal, E.P. Carrillo, La Gloria Cubana, Fuente Fuente OpusX, Partagás 1845, Macanudo Crü Royale, and Padrón Anniversary.
The attendees included former New York City Mayor Rudolph Giuliani, hockey legend Wayne Gretzky and his wife, Janet, retired pro baseball player Gary Sheffield and Herb Kohler, chief executive officer and president of the Kohler Co.
The Cigar Aficionado Hall of Fame Class of 2012 with editor and publisher Marvin R. Shanken, center.
Expertly crafted cocktails were served at the bar, which also poured fine wines like Caymus Cabernet Sauvignon Napa Valley, Mer Soleil Silver and Conundrum Red. For fans of brown spirits, Zacapa 23 and XO were on hand.
The combination of drink and smoke and fine food eased the comfort level of the room, and soon the space was filled with lively conversation and mirth as old industry friends caught up with one another and new faces were introduced.
Shortly after 7 p.m., guests funneled in the back of the space to watch Shanken present his Hall of Fame awards to the Class of 2012.
"This is a very special moment, a very special evening," said Shanken to the tightly packed crowd.
You must be logged in to post a comment.
Log In If You're Already Registered At Cigar Aficionado Online