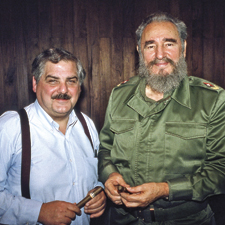 After nearly two years of effort, Marvin R. Shanken interviewed Cuban President Fidel Castro at the Palace of the Revolution in Havana.
The Story of Cigar Aficionado
Twenty years ago, Marvin R. Shanken had a dream to launch Cigar Aficionado, and that dream triggered one of the most unexpected cultural fads of the 1990s—the renaissance of cigars.
(continued from page 3)
There was no smoking on the line, per the latest Nevada antismoking laws, but the crowd was chatting, reclining on the floor, leaning up against the walls, and laughing, joking and having a good old time. Inside, employees from nearly 30 cigar manufacturers were putting the finishing touches on their booths, some with elaborate designs including gigantic pictures of their respective brands. Scotch, Bourbon and rum companies were ready to pour, with beautiful young hostesses set to fill the glasses of the attendees. A huge display of the new Chevy Volt was ready to go. Restaurants from the Las Vegas dining scene, including Andres, Charlie Palmer Steak, Delmonico's, Valentinos and Tao set up at one end of the ballroom.
At exactly 6:30, the crowd began to charge through the doors, some heading to the booths they knew would soon be mobbed. By 7:15, more than 2,000 people were in the ballroom, smoking cigars, drinking great liquors and eating at the more than 20 tables. Even with the siren's call of gambling in the casinos, the myriad shows and spectaculars and dozens of great restaurants in Las Vegas, the floor was still crowded as the 9:30 closing time neared. As the lights began flashing to signal the end was near, the crowd slowly, and reluctantly began to move toward the exits. As many left, they also shouted out to Cigar Aficionado staffers, "See you next year."
The party goes on.
You must be logged in to post a comment.
Log In If You're Already Registered At Cigar Aficionado Online