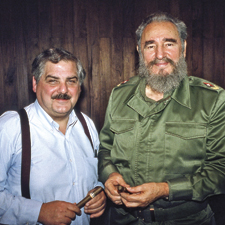 After nearly two years of effort, Marvin R. Shanken interviewed Cuban President Fidel Castro at the Palace of the Revolution in Havana.
The Story of Cigar Aficionado
Twenty years ago, Marvin R. Shanken had a dream to launch Cigar Aficionado, and that dream triggered one of the most unexpected cultural fads of the 1990s—the renaissance of cigars.
By 3 p.m. on May 19, 1993, the line to enter the first Big Smoke snaked around the circular elevator bank that soared from the street level to the eighth-floor lobby of New York's Marriott Marquis hotel. Men in jeans and polo shirts, some in suits fresh from a day at the office and even a couple of gentlemen in tuxedos waited patiently for the event that wasn't scheduled to start until 4:30 p.m. in the sixth-floor Grand Ballroom. Cigar smoke wafted up to the lobby atrium of the hotel, and all the way up to the more than 40 stories of rooms.
When the doors finally opened, more than 500 people were waiting to get in, and they dashed inside like an urban version of the Oklahoma Land Rush of 1893. Aisles crisscrossed the large ballroom, the tables were separated by cloth partitions with simple white signs that announced which cigars were there. And within minutes the floor was packed with cigar lovers who were pressed together shoulder to shoulder, all reaching for the samples.
Such cigars as Arturo Fuente, Ashton, Fonseca, H. Upmann, La Aurora, Macanudo, Don Tomás, Zino and Te-Amo were just a few of the 17 brands being handed out. Absolut, Bacardi, Courvoisier, Hennessy, Martell and Rémy Martin, Glenfiddich and Glenlivet and 15 other liquor brands were poured. High-end luxury booths included Asprey, Breitling, Cartier, Harry Winston, Louis Vuitton and Mont Blanc. On the sides of the room, restaurants like Montrachet, 21 Club, The Four Seasons, Remi and San Domenico prepared gourmet dishes for the hungry revelers.
The crowd of 1,500 overwhelmed everyone. At the end of the night, there were no more cigars, there was no more food and the liquor guys were rolling their eyes at how many bottles had been consumed.
Simply put, it was one of the greatest adult parties that New York City had ever seen. And that wasn't even the real story. The real story was the realization that Cigar Aficionado magazine had struck a nerve with cigar lovers, and that the crowd proved there was more than just a new magazine on newsstands, but a trigger for a cultural phenomenon almost without precedent in America.
But the saga that was to become Cigar Aficionado began in earnest when Marvin R. Shanken, the chairman of M. Shanken Communications, returned from a pilgrimage to Cuba in October 1991 with an idea: a cigar magazine. Defying all protests that it was a bad idea, he charged his art department and editorial team to come up with a design and an editorial plan. By early summer of 1992, the design was ready and the first copies arrived in the offices around the beginning of August. They were kept under tight wrap before the first unveiling at the Retail Tobacco Dealers Association convention in Chicago. The question remained: Did any one want a cigar magazine?
Milton Berle, with Marvin R. Shanken, regaled the crowd at a Big Smoke Lunch in New York in 1995.
By the looks of the RTDA show floor, any serious observer would have said, "probably not." At best, the mood at the convention was desultory. And, that's being generous. The cigar industry had been suffering through at least two decades of steady decline in sales, even though in 1991 there had been a small uptick in units sold. Even with that news, there was no positive vibe. Families with generations of history in cigarmaking were encouraging their next generation to become doctors or lawyers.
The convention's location, at least four floors down in the lowest basement level of the Chicago Grand Hyatt, only highlighted how far the industry had fallen. The booths were basic aluminum-pole frames hung with simple curtains; the fanciest had some shelves to display the various brands owned by each company. At least as many booths sold trinkets, chess sets and ashtrays as those that offered cigars; and each non-cigar booth shouted out the idea that a tobacconist needed to have an inventory beyond just cigars to survive.
"There was some new optimism because of some small sales increases," remembers Richard DiMeola, who ran Consolidated Cigar's premium cigar business. "But the magazine started some real buzz at the convention."
George Brightman, who had joined Cigar Aficionado in June 1992 after nearly 20 years in the retail tobacco business, recalls that his former industry colleagues, "looked at us like we were out of out minds." He described one industry big shot, Danny Blumenthal, taking Shanken by the arm and saying, "You do an interview with me, with Frank Llaneza [his partner at Villazon] and Lew Rothman [a big catalog retailer], and you're done. Three issues. Then what are you going to write about?"
You must be logged in to post a comment.
Log In If You're Already Registered At Cigar Aficionado Online