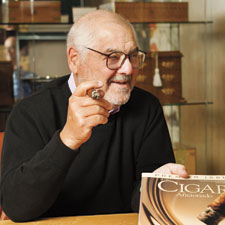 An Interview with Marvin R. Shanken
The editor, publisher and founder of Cigar Aficionado sits down with his Executive Editor, Gordon Mott, to talk about the genesis of the magazine, and his love of cigars.
(continued from page 4)
CA: What happened in the 24 hours after you bought it?
SHANKEN: An awful lot of publicity. Arnold Schwarzenegger bought JFK's set of golf clubs for a lot of money and there were a few other things but the humidor got tremendous publicity all over the world. I didn't even think about that. I had no idea. Frankly, if somebody had told me that I was going to pay that kind of money, I wouldn't have gone to the auction. I went to the auction thinking I was going to spend $20-$30,000 and that's it. It just happened and I blame my wife because she didn't pull my hand down. I was bidding emotionally without thinking about the ramifications of spending that much money for a humidor. Why? You want to buy it?
CA: No thanks. In 20 years, through Cigar Aficionado, you've made great friends, you've met great people. Did you expect that to happen when you launched the magazine?
SHANKEN: I now have a lot of friends who smoke cigars. The best part of the whole adventure has been meeting and getting to know the cigar makers, who are such wonderful people, and becoming their friends, helping them grow their business, watching them all succeed. They now have their children and their grandchildren in the business, and the business, it's a real industry today. Twenty years ago there were guys struggling, not knowing how they're going to pay their bills, not knowing how they're going to survive and today it's a great industry, one which Cigar Aficionado magazine played an important role in helping to come of age.
CA: What is your vision for the future of the cigar business?
SHANKEN: The government has done and continues to do everything they can to restrict, smother, destroy cigars and the enjoyment of cigars. There are a number of antismoking groups that have the ear of the government. To think that in this day and age I can't go to Central Park, which I've done my whole life, and sit on a bench by myself, enjoy a cigar and watch the people with their dogs parade by. I hope the pendulum swings back one day, because, outside of the fact that they've taken away our freedoms, I had friends that I used to meet in the park all the time on a Saturday afternoon or a Sunday afternoon; we'd just sit there and talk and have a cigar and it was a highlight of my week.
Today, there are so few places that you can enjoy a cigar and even so, the cigar market is strong. I don't know where people are smoking but I hope one day governments realize that they've overstepped their bounds and there needs to be some balance. I would never smoke a cigar around people that didn't like smoking. I used to always pick a bench that was out of the way. You know, for the most part, cigar smokers are considerate people and it's really not fair, not right. It makes me very angry because I live in America and smoking a cigar outdoors is a no-brainer. I remember when I used to go to restaurants and smoke a cigar after dinner. It was never a problem there either. There was never a problem. And I'd always ask the people around me if they had any problems if I did or didn't smoke. Or I went to the back of the restaurant or to the bar. In more recent years they had even put in air-filter systems to deal with the smoke. I just hope one day there is reason and fairness in the laws so smokers have rights they so justly deserve, certainly for cigar smokers.
CA: Have there been any disappointments?
SHANKEN: Are there? I don't know. What's interesting is that when I travel both in the United States and around the world, no matter where I go, people know about Cigar Aficionado. I find that fascinating. Even nonsmokers know of or have seen or have read Cigar Aficionado magazine. You know, it's not published by a major international publishing company. It doesn't have any of the privileges or strengths of a major international publishing company. It's published by a relatively small family publishing company. And the fact that it could enjoy such a wide reputation of
respectability to me is, is amazing.
CA: What made it successful?
SHANKEN: In part, people can't believe that somebody could do it and get away with it and succeed. I don't know. What do you think?
CA: Well, it does seem to speak to everything you've talked about—the camaraderie, the community.
SHANKEN: Yes. Even nonsmokers. You go to Paris, you go to London, you go to the Caribbean, you go to Mexico. It doesn't matter where you go. People read the magazine. And cigar smokers everywhere are part of our family.
Comments
1 comment(s)
Nick Russell — January 17, 2013 4:09am ET
---
You must be logged in to post a comment.
Log In If You're Already Registered At Cigar Aficionado Online