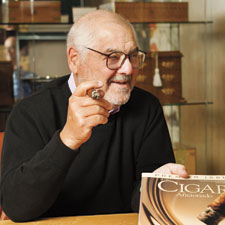 An Interview with Marvin R. Shanken
The editor, publisher and founder of Cigar Aficionado sits down with his Executive Editor, Gordon Mott, to talk about the genesis of the magazine, and his love of cigars.
(continued from page 3)
CA: Do you remember the first one?
SHANKEN: The first Big Smoke? Absolutely. I walked into the room and could not believe the mob of people there having a good time, laughing and smoking. There were people from the cigar industry and cigar-smoking consumers. I had no idea that anyone would even come. It was just a wild, wild moment. That's probably the first moment I realized that the whole project, and the magazine, was something very special for guys that love cigars.
CA: In the beginning, wouldn't you say that  even the cigar industry was pretty skeptical?
SHANKEN: Yes. Before I launched Cigar Aficionado, I went around to visit a lot of the cigar makers in their homes and offices in the Caribbean or in Florida, virtually all of them looked at me like I was a crazy person. I mean, it was like, "A cigar magazine? What are you, nuts?" I don't think any of them had a clue as to how it could impact their business. In the handmade cigar business, sales had been flat at around 100 million cigars for the previous 20 years. Many of the cigar makers were thinking about getting out of the business because there didn't seem to be any growth or any future in the cigar industry. I think they were cautiously rooting for me, but they had no expectation that I could make it. I think the only credibility that I had is they would say to each other, "Look, he did it with wine. If he did it with wine, maybe he can do it with cigars. Let's keep our fingers crossed."
Following the launch of the magazine, many cigar companies' business rose dramatically. I don't want to say rose from the ashes, but they became enormously successful. The cigar market in America really exploded and sales grew rapidly for many years. A lot of people recognize that it's the launch of the magazine that really was the fuel and the engine behind the growth of the cigar market in America. And of course, then people started reading it all over the world.
CA: What is your greatest memory of the last 20 years?
SHANKEN: Probably interviewing Fidel Castro in 1994.
CA: That didn't just happen overnight, did it?
SHANKEN: No, it took two years. I had actually gone down to Cuba several times with the hope and expectation that I would get the interview because the advance people told me, yes, it was going to happen that trip. I would wait and wait and wait and it never happened. They would always tell me to stay in my hotel room with the instructions, "Tonight's the night,
tonight's the night." It never happened. Then, one rainy night around midnight, the phone rang, and I was asked to meet a woman from the Foreign Affairs office in the lobby of my hotel. We went in a chauffeur-driven dark blue Mercedes through the damp streets of Havana to the Palace of the Revolution where I had my interview with Fidel Castro. It was a very special moment.
CA: It was a coup.
SHANKEN: It was. After we published the interview, it was picked up and written about and talked about by many, many newspapers, magazines and TV stations around the world. It was a very, very, very rare occurrence.
Great story. One day, a few years later, I was flying on a shuttle back from Washington to New York and I happened to be sitting next to Mike Wallace. We were both in coach and we were both in the back. I was on the aisle. He was in the middle seat and I recognized him. He didn't recognize me, which is understandable, and we started talking. I introduced myself and told him who I was and he got very mad at me and he said, "You stole my interview." And I said, "Well, what are you talking about? You're '60 Minutes.' " He said, "I have four copies of the issue with your interview with Fidel Castro in my drawer and I've been working for 10 years trying to get that interview and I could never get it and when you had it, I got so mad at you, you have no idea." It's like he couldn't get over it and he was then very detached from me and unfriendly because he thought I had stolen his first-born child. That was a great backhanded compliment although at the time I was scratching my head wondering why he was so mean to me.
CA: What about the little box that's sitting right behind you there, the JFK humidor? That was another pretty amazing moment, when you bought it, wasn't it?
SHANKEN: I volunteered to work for the John F. Kennedy campaign when he ran for election in 1960, in New Haven, Connecticut. And I worshipped him. After he won, I got a beautiful thank-you letter from him which I'm sure was a form letter that had a printed signature but I was so young in those days I thought he wrote me.
When I read that his humidor was being auctioned off at Sotheby's at the Jackie Onassis auction, and the estimate was $15,000, I said to my wife, "I want to get it." I had been collecting antique humidors and I had a number of humidors already. But this was something that I really wanted to have. I figured it was going to cost me 15, 20, maybe $25,000, which is a lot of money. I went with my wife, Hazel, and we sat in the audience. It was mobbed with people and TV cameras. They start the bidding at like $10,000 and before I could blink, it's $50,000 and then it's $100,000 and then it's $150,000. And meanwhile I didn't even raise my paddle, it's gone by me so quickly.
When it got to $200,000 I got angry. This was my humidor, something that I really wanted. At around $240,000, I put my paddle up for the first time. When it started, there was a sea of paddles and then as the price went up, the number of paddles went down. It went to 300, 310, 320, 350, 400,000, 410, 420, 430, 440. Somebody bid $450,000 and I was really pissed! And I don't know why, but I mean I went totally crazy. I put up my hand with five fingers. It had been going up in five and 10 thousand increments but I went from $450,000 and I bid a half million. So the auctioneer, Dee Dee Brooks said, "That gentleman must really like cigars." Then some guy on the phone bid 510 from Chicago and then I went 520 and the other guy stopped. Thank God. To make a long story short, I bought the humidor. It's sitting here. I never looked back. And it's one of the most cherished items I have.
Comments
1 comment(s)
Nick Russell — January 17, 2013 4:09am ET
---
You must be logged in to post a comment.
Log In If You're Already Registered At Cigar Aficionado Online