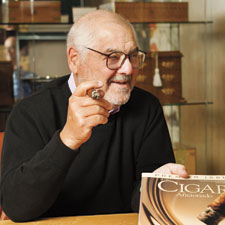 An Interview with Marvin R. Shanken
The editor, publisher and founder of Cigar Aficionado sits down with his Executive Editor, Gordon Mott, to talk about the genesis of the magazine, and his love of cigars.
(continued from page 2)
CA: You remember it correctly.
SHANKEN: The circulation head said, "You know if you want to, if you want to play, do a special insert, a special issue or run it as an insert in The Wine Spectator." I thought that was a defeatist thing. But in the beginning, I think I was just insecure with the idea of doing a cigar publication. I thought more about doing a cigar newsletter. I just wanted to do something. But as I spent more and more time developing the idea and everybody kept telling me not to do it, including my friends who were not even in the business, I just got more determined.
CA: I was going to say, the negative feedback wasn't just inside the company, right?
SHANKEN: Everybody. My Young Presidents' Organization forum of successful executives laughed at me when I shared my idea. I mean everybody said it was a bad idea, and that it would ruin my reputation. But the more people told me not to do it, the more committed I became to it and went from a newsletter to a magazine to a glossy magazine. I started developing the vision of what this publication would be. I wanted it to be the ultimate men's lifestyle magazine. Then the question was what do we call it? And you reminded me that I had thought of it originally as a quarterly because I didn't know if it could be sustained on a monthly basis and we came up with Cigar Quarterly, or CQ. Then, you did some research to see about the name, but you found that Congressional Quarterly was already known as CQ. Then the working name was The Humidor or Humidor Magazine and that's what we were working with and doing dummies of and so forth. I don't know why, but I started re-reading some of my earlier Wine Spectator columns, written in the mid-1980s.
CA: You have a copy there now. Read the line.
SHANKEN: Yes, I came across the article that I wrote in February, 1984 and in it, there is a sentence where I'm talking about a cigar auction of Cuban cigars. Here's what I said: "To the serious cigar aficionado, this was a moment in history." A light turned on in my head and I said, "Cigar Aficionado Magazine". When I said that to other people they scratched their heads, "Cigar Aficionado? Nobody even knows what it means, nobody would use it, nobody knows how to pronounce it, nobody knows how to spell it." But I was convinced that was the name even though it was not a word used much in the English language. Today you read newspaper articles and there are fishing aficionados, there are car aficionados, there are all kinds of aficionados. The word is used all the time and it's basically because the name was popularized in Cigar Aficionado.
It was a name that was added to the American popular language through the launch of Cigar Aficionado magazine.
CA: Did you do any market research, focus groups or independent studies?
SHANKEN: No. My stomach was the only research. My stomach and my passion and love for cigars.
CA: What was your reaction when you saw the first printed copy?
SHANKEN: Well of course, I had prototypes put together by the art department. We designed a dummy for advertisers to show them what I had in mind. When they saw what I had in mind they realized that this was going to be an elegant, beautiful look at a lifestyle for the affluent male. The first issue was everything I could ever have dreamt of plus much more. From day one, the magazine was a great success.
CA: What was your goal when you started it?
SHANKEN: My goal was to somehow get to 20,000 circulation. In the first issue we had over 100,000. What happened was I started running small ads in The Wine Spectator, black and white ads saying if you want to get the
issue free, Xerox the ad and fax it to us. We started getting five a day, 10 a day, 20 a day... and then it was 50, 100 a day. It's no joke. Unbelievably, we ended up with a mailing list of 100,000 before the first issue. The truth is, if I had used any other magazine as the source to develop a mailing list, it would have been a failure. But the Spectator had many male readers who were interested in the idea. It was an overnight success. The magazine actually turned a profit in the first year, which is unheard of in publishing.
CA: Apart from that first flood of faxes, when did you realize that you had something special, that the magazine had tapped into some special feeling, some desire out there in the market?
SHANKEN: I couldn't quantify it or pinpoint the moment. I mean when you do something that's a labor of love with no expectation of ever making a profit, there aren't a lot of expectations. I was at a point in my life where I had gone forward expecting to lose money with the magazine the rest of my life, and the losses would just be offset by the profits of my other magazines. But I was fulfilling a fantasy and fulfilling a dream. More than any financial success, I wanted to create something that would bring cigar lovers together and bring them peace, and bring them happiness.
One of the magazine's main missions was to educate people on how to enjoy cigar smoking. A lot of my friends didn't smoke. I remember I would show them how to select a cigar, how to cut a cigar, how to light a cigar, how to smoke a cigar. They didn't even know how to light a cigar, how to smoke a cigar or how to hold a cigar. I realized that the magazine's mission for the first few years was just educating men so they wouldn't be afraid and they would try smoking a cigar. If they tried it and if they liked it, then they would join my cigar world, which brought me a lot of pleasure. I wanted to share this pleasure with them.
As you well know, the magazine had great articles, great writers and great photography. It was just a very exciting period of my life. The publicity we got, the articles written about it—Fortune, Forbes, Wall Street Journal, New York Times. Everybody wrote about it. After the launch we began these events called Big Smokes that were like no others that had been done before. Today they are all over the world; people have copied them. But I had this vision of bringing people together in a room where we sampled and smoked cigars, drank whiskey; we had fun and laughed and heard music.
When we started one in New York, the first year we had 1,500 people. Then, we went to two sessions, we had 3,000 people there in one night. Then we started taking it to other cities. I think in all we've done like 15 different cities. At one point, we were doing about 10 a year. It got to be too much so we cut back and just stayed with events in the bigger cities. We now host Big Smokes in New York and Las Vegas annually. The Big Smoke Weekend in Las Vegas attracts 4,000 to 5,000 people.
Comments
1 comment(s)
Nick Russell — January 17, 2013 4:09am ET
---
You must be logged in to post a comment.
Log In If You're Already Registered At Cigar Aficionado Online