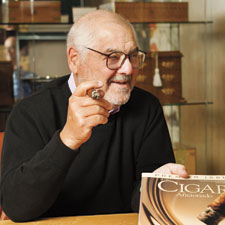 An Interview with Marvin R. Shanken
The editor, publisher and founder of Cigar Aficionado sits down with his Executive Editor, Gordon Mott, to talk about the genesis of the magazine, and his love of cigars.
(continued from page 1)
CA: Weren't you the only employee of Impact at the time?
SHANKEN: There was a girl who's name I can't remember who ran it in '73 and '74. By 1975, when it became my full-time occupation, I didn't just start writing it by myself. When I went off on my own I brought in Margo Lee [Hofeldt] whom I knew from college and she was there working with me when I started to try to build Impact Newsletter for the wine and spirits industry.
CA: Didn't you build the newsletter's reputation very quickly?
SHANKEN: It took time. But the first goal was to get the newsletter business to $100,000 in revenue so I could take a salary. That took me about four or five years. My first salary was about $15,000 dollars a year after four years. Don't ask me how I lived. It was hand-to-mouth. By 1980, I had a very small business.
CA: In 1980, isn't that about the time you discovered Wine Spectator and brought it into your publishing empire?
SHANKEN: It was hardly an empire. But I had found it a few years before. In 1976, a gentleman on the West Coast named Bob Morrissey launched a tabloid newspaper called The Wine Spectator. I ran across it and thought it was great and I picked up the phone one day and said, "Congratulations! Great!" It was a very friendly, unpretentious publication, not for wine snobs but for beginners. He and I became telephone pals. In 1978, he asked me to come visit him and help him because I had an MBA and he had come out of the armed services. He said he couldn't make it, and would I take it over? I said no but I would help him. So I came back east and I got some friends I knew in the wine business to buy ads in his newspaper. It was $200 a page and I did it as a favor to him.
I didn't take any commission; I didn't take any money. I just wanted him to survive. And then in 1979, he called me and said, "I don't want it to die. You have to take it over." And I said, "I'm not taking it over." He says, "Well, I'm coming to New York and I need to see you." And so he came to New York and he told me he was folding the newspaper and that I had to take it over. "I'm giving it to you," he said. I said no. But then I don't know what got into me because I was struggling myself at the time. So, I said, "Yes, but I don't want it for free." I said that I read in a book that media companies sold for one times revenues. He said his annual revenues were $40,000. So I said, "Okay, I'll pay you $40,000 dollars but I don't have it so I'll pay it over five years." He said it's not necessary. "No," I said. "I insist." So I paid him $8,000 a year for five years. I took it over, threw my heart and soul into it and struggled and starved for a fairly long time. Then one day, I woke up and I had a business. During the time, I had launched research reports, started marketing seminars and another magazine called Market Watch. I was doing everything I could to make a buck to stay alive. At the time, I had a friend named Terry Clancy, who was in the wine business, and he gave me a lot of good advice on how to build a business.
CA: Were you still smoking cigars during that period?
SHANKEN: Absolutely. Cigars have gotten me through a lot of difficult days at The Wine Spectator and Impact.
 
CA: We're in the 1980s, the company's reputation and influence is growing rapidly. When did you start thinking about doing a cigar magazine?
SHANKEN: Well, as I said, I had launched Market Watch, which is a trade publication for the wine and spirits industry and then I bought a beautiful magazine for chefs and restaurateurs called Food Arts in the late '80s. By then, I had a successful, small publishing business. I had always thought about a cigar magazine but never very seriously. It was like a fantasy fun thing to think about because there were no cigar publications. There was very occasionally a cigar article in the newspaper or magazine and I actually wrote a few columns about cigars in Wine Spectator. The first one was in 1984.
CA: You wrote about cigars in Wine Spectator?
SHANKEN: Yes, the first one was entitled, "I Love a Good Smoke." which was in 1984, 28 years ago. The senior editors at the Wine Spectator were not happy that I was writing about cigars in a wine magazine. They thought it was very inappropriate and after three or four columns, they pushed me to stop because they thought it was unbecoming for a wine magazine to be writing about cigars. But those columns meant a lot to me in those days.
Then, in 1990 or 1991, I had an editorial meeting in California at Pebble Beach at the Inn at Spanish Bay with all the editors of the Wine Spectator. I was making a lot of changes at the Spectator to make it more of a lifestyle publication and upgrading it from newspaper to a colorful magazine and getting into collecting, cooking and dining, and travel and many other lifestyle topics. I was challenging the editors to come up with story ideas or cover ideas that weren't about wine. I don't know how, but I or somebody brought up cigars or maybe doing an article on cigars in The Wine Spectator and I said, "You guys are crazy; all these years you've been beating me up and now you, you're saying it's okay to do an article on cigars." And now they start pounding the table saying, "Cover! Cover!"
They had decided I think to challenge me to do an article in Wine Spectator on Cuban cigars. I said, "Who's going to do it?" And everybody said, "You're going to do it 'cause it's your love." In 1991, I went to Cuba to do research for a cover story on Cuban cigars, which came out in February of 1992. The cover was entitled, "The Allure of Cuban Cigars." It had a tasting report for cigars like we had for wine. It had beautiful pictorials of Cuba. It had interesting stories on people at the Cuban cigar company, Cubatabaco at the time, and many other things. It was a full issue devoted to Cuban cigars. While I was on the trip to Cuba, I must have lost my mind. It was the most exciting week of my life to go to the mecca, the birthplace of cigars.
CA: The trip itself was the fulfillment of a lifelong dream, right?
SHANKEN: Oh, absolutely. I never thought I'd be able to go to Cuba. On the way back, in the airplane, I said to myself I don't want to die without having a cigar magazine. That was the beginning. And so I came back; I had a meeting with many of the top executives at the company in circulation, in marketing, in production and editorial. I don't know, were you there?
CA: I was there.
SHANKEN: I told them of my dream. And I asked them to, to go around the room and to tell me what they thought of the idea. Correct me if I'm wrong—every single one of them told me it was a bad idea. Not to do it.
Comments
1 comment(s)
Nick Russell — January 17, 2013 4:09am ET
---
You must be logged in to post a comment.
Log In If You're Already Registered At Cigar Aficionado Online