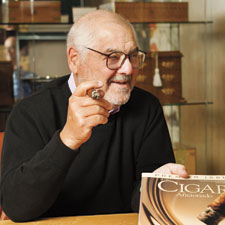 An Interview with Marvin R. Shanken
The editor, publisher and founder of Cigar Aficionado sits down with his Executive Editor, Gordon Mott, to talk about the genesis of the magazine, and his love of cigars.
In 1991, Marvin R. Shanken fulfilled a lifelong dream to visit Cuba and to see first-hand the place where some of the world's greatest cigars are produced. By the time he returned from that trip, a clear idea had formed of what he wanted to do—start a cigar magazine. It wasn't just a spur-of-the-moment decision, but the perfect synergy of a lifetime of smoking and enjoying cigars with a publishing career that was reaching new heights. He has never before told his story from the beginning. Executive Editor Gordon Mott sat down with him in the corporate offices of M. Shanken Communications in New York City.
Cigar Aficionado: When and where and how did you fall in love with cigars?
MARVIN R. SHANKEN: I was a freshman at the great University of Miami in Coral Gables, Florida. I started smoking Hava-Tampa Jewels, which were then 25 cents for a box of five. They had wooden tips. Rather unsophisticated, but they were fun to smoke.
CA: What year was that?
SHANKEN: Oh my God, 1961 or 1962. Later on, I moved up to Partagás No. 10s, which were big cigars in those days. They were mild. That was my go-to cigar for a long time. But I do remember that when I was in college I was probably the only kid smoking cigars in my fraternity.
CA: Wasn't that about the time the first big influx of Cuban immigrants arrived following Cuba's revolution? Was there a cigar community in Miami at the time?
SHANKEN: Not really. I was a loner in the cigar world. I used to buy the cigars at a convenience store across from the university campus. It wasn't even a cigar store. It was more like a five-and-dime. They sold hardware and different kinds of products. Cigars were just one of the things they had on the shelves.
CA: Why did you pick one up the first time?
SHANKEN: I don't know. My father didn't smoke. I must have had the impression that this was something that made me appear more mature. Or it was sort of like a way to elevate my own self-image in some way. It was something that I enjoyed doing. I might add that one of my college professors was this delightful elderly woman who was Cuban. She came to America in the late '50s. After school I would visit her in her apartment where she shared stories of her life growing up in Cuba. It was a major fascination I had while I was in college. She told stories of Havana, Vuelta Abajo, and the culture of what sounded like a great country. Obviously, she was unhappy about Castro taking control, which is why she left with her husband who was a doctor. I think this is how I began to have the desire, the dream to one day visit Cuba.
CA: After you graduated, you started working on Wall Street. Did you keep smoking cigars there?
SHANKEN: Yes. Actually in one of my early jobs, one of the partners was a regular cigar smoker. He smoked during the day, all the time. Now that I'm thinking about it, and I haven't thought about it in 50 years, he smoked only Cuban cigars even though they were illegal.
CA: Where was that?
SHANKEN: This was at a small investment banking company in New York. It wasn't a big deal, but I was a cigar smoker.
CA: Were you smoking one, two or three a day?
SHANKEN: I don't think I smoked a lot but I'm guessing a cigar a day.
CA: Did you start smoking Cuban cigars, or at least try them?
SHANKEN: Yes, but they were too strong for me. I smoked mainly Dominican cigars. It was very relaxing. I learned early on that cigars were a wonderful way to relax and to expand my mind. Over the years, whenever I had a difficult problem or business issue, if I would sit back, have a cigar, my mind would wander into new ways of solving a problem.
CA: You started on Wall Street, but then you got interested in the wine business. How did that happen?
SHANKEN: I started financing vineyards in Northern California and that's when I became interested in wine and started learning about it. At a given moment in time, don't ask me why or how, I decided that I wanted to be a wine writer. I didn't know what I was doing. I never took journalism courses. I was not very good in English class, but I always had an
appreciation for the Fourth Estate and I always thought that other than being a doctor or a judge, there was no greater glory than being a journalist. That was something of very high standing but not necessarily something that I personally thought I would ever move to. And it was after getting involved in the wine industry and starting to read about and visit vineyards that I decided I wanted to be a wine journalist. It was a stupid idea at the time. I had no reason or basis for going in that direction because I had no experience in that field. That was 40 years ago!
CA: It couldn't have looked like a career in which you were going to make a lot of money?
SHANKEN: Money was never a goal other than I wanted to survive. It was really about learning and about being involved in something I loved. And I fell in love with wine. And I decided I wanted to be a wine writer. I started looking around and found a newsletter for sale called Impact Newsletter. It was owned by a stock brokerage company called Oppenheimer, and was published by a guy named Jack Maxwell. He was unloading it and, I heard about it. It had 200 subscribers and he wanted $10,000 dollars; I thought I was being very sharp by negotiating to buy it for $5,000; but I later found out that he would have given it to me for free. He just wanted to unload it. I borrowed the money from my sister because I didn't have $5,000 and I started being a publisher. That was about 1973. I did it part-time up to 1975, working in the investment bank and doing the newsletter. Then I decided to leave Wall Street and starve, but be happy being a writer.
Comments
1 comment(s)
Nick Russell — January 17, 2013 4:09am ET
---
You must be logged in to post a comment.
Log In If You're Already Registered At Cigar Aficionado Online