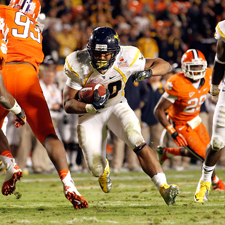 Photo/J. Meric/Getty Images
The 10 Worst BCS Teams in College Football
(continued from page 1)
2. Kansas – From the people who brought you one of the most underwhelming eras in Notre Dame football history comes your 2012 Kansas Jayhawks! Turner Gill is out as coach and Charlie Weis is in, which is sort of like trying to smother a fire with paper and then trying to drown it in gasoline. Weis brings in two transfer quarterbacks, Dayne Crist from Notre Dame and Jake Heaps from BYU. Both, like Weis, were once considered sure-fire NFL stars, but are now on their second schools battling to accomplish anything. Compared to the defense, the offense was NFL Films worthy. Kansas was the most promiscuous defense, though, in college football, as teams scored on them at will to the tune of 44 points per game. Opposing quarterbacks completed 70 percent of their passes last season, a better rate than most people throwing footballs through stationary tires at the state fair. Kansas' athletic director may have rejoiced when he pushed respected coach Mark Mangino out of town, but he has a much heavier coach to shove this time around. Rock chalk, Jayhawk! Bet the opponent!
1. Colorado – Remember when Colorado was a mighty football program that threatened to be a championship contender? Neither do we. A program on its way down when coach Dan Hawkins took over five years ago is even more toxic now. Colorado alum Jon Embree inherits a program in meltdown since moving to the PAC-12. He may need to check Craigslist to find some skill players as his team lost every starter at an offensive skill position from last year. Even the one promising returning starter, wide receiver Paul Richardson, blew out his knee in spring practice and will miss the season. The news isn't any better on defense, as the Buffaloes got stampeded for 37 points per game. The plan at cornerback looks to be to rotate freshmen in there who hopefully won't get tired chasing receivers to the end zone. Colorado State, Sacramento State and Fresno State may allow Colorado to match their three win total last year, but once they get to the conference schedule, only the Department of the Interior can save these Buffaloes from getting slaughtered. If the American Indians were to give Colorado's opponents an Indian name, it would be "Dances in End Zone."
Dishonorable Mention
These are teams that I predict will under perform, and win seven or fewer games this season:
Auburn, California, Georgia Tech, Iowa, Kansas State, Miami, Missouri, North Carolina State, Penn State, Tennessee, Texas A&M, Virginia and Washington.
Danny Sheridan is a sports analyst for U.S.A. Today, for which he provides the daily odds on all sporting events for its website. He is also a frequent contributor to Cigar Aficionado. To read his picks for the 2012 NFL Season, see the August issue, on newsstands everywhere.
Comments
9 comment(s)
Matt Fadelli — Star, Idaho, US, — August 15, 2012 4:22pm ET
---
Ian G. Heller — August 15, 2012 9:34pm ET
---
Don Miller — August 17, 2012 6:07pm ET
---
Bert Green — Jackson, Mississippi 39211, USA, — August 22, 2012 2:55pm ET
---
Mike Walker — August 30, 2012 6:11pm ET
---
James Moore — August 30, 2012 9:53pm ET
---
James Moore — August 30, 2012 9:55pm ET
---
George English — Henderson -, North Carolina, USA, — October 9, 2012 3:07am ET
---
shelbymustang — November 20, 2012 11:24am ET
---
You must be logged in to post a comment.
Log In If You're Already Registered At Cigar Aficionado Online