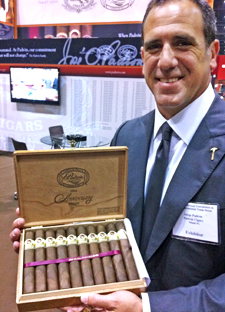 Jorge Padrón shows off a box of the new 1964 Anniversary Series No. 4 cigar at the recent IPCPR trade show.
New Padrón 1964 Anniversary Ships This Week
The fattest ever Padrón 1964 Anniversary Series cigar was unveiled this weekend, and it's going to ship to retailers this week. The Padrón 1964 Anniversary Series No. 4, a substantial smoke measuring 6 1/2 inches long with a 60 ring gauge, is ready to reach cigar retailers.
The team from Cigar Aficionado smoked preview versions of the box-pressed cigar this weekend in Orlando at the International Premium Cigar & Pipe Retailers trade show. It had an effortless draw, big, rich flavor and notes of cocoa and vanilla, familiar to Padrón smokers. The cigar will have a suggested retail price of $20.
Most No. 4 sizes in the cigar world are diminutive, but these are quite large. They are the first new Padrón Anniversary shape since the launch of the Toro two years ago.
The cigar gets its name from the December 4 birthday of Saint Barbara, or Santa Barbara, a Catholic saint held dear by Cubans. "Cubans feel she is a protector," said Padrón president Jorge Padrón. "When my father was in Cuba, he prayed to Santa Barbara to help him get out."
The elder Padrón left Cuba on April 1, 1961, and went to Spain. He waited several months before finding a way to get to the United States, and in late November of that year he set sail for America. "The boat that I came on arrived in New York on December 4," said José Orlando Padrón, speaking through his son Jorge. "The birthday of this patron saint."
St. Barbara is revered by many, not only Cubans. According to legend, she was beheaded by her father in the 7th century, and he was struck down by lightning after committing his crime. She has long been associated with lightning and explosions, and is prayed to by soldiers, particularly artillerymen, and is also known as a patron saint of miners. José Orlando Padrón worked in a copper mine as a younger man in Cuba.
For the full back story on this cigar, click here.
Comments
6 comment(s)
Colin Fraser — Aberdeen, Scotland, United Kingdom, — August 7, 2012 6:05pm ET
---
WILLIAM KENNARD — MIDDLEBURG, FL, United States, — August 7, 2012 8:06pm ET
---
Adam 'Jock' Walker — August 8, 2012 3:23pm ET
---
Adam Cliett — Hueytown, Alabama, USA, — August 9, 2012 10:12pm ET
---
Jsanzone23 — August 13, 2012 10:49pm ET
---
Terrell Harmon — Portage, MI, USA, — August 14, 2012 1:59pm ET
---
You must be logged in to post a comment.
Log In If You're Already Registered At Cigar Aficionado Online