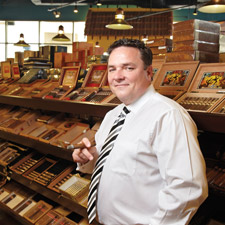 Borysiewicz, whose large retail stores are modeled after big-box stores, joined the fight against onerous cigar tariffs when a floor tax on his entire inventory threatened to crush his business.
The Cigar Crusader
Corona Cigar Co.'s Jeff Borysiewicz owns some of the largest cigar stores in the world, but he finds himself spending most of his time fighting for your right to smoke a cigar
(continued from page 3)
He acknowledges he has sacrificed growth for the lobbying, but it's a fight he knows he has to continue.
Borysiewicz frequently mentions that his fight is a team effort, bringing up the IPCPR, his colleagues at the CRA and such motivated cigarmakers as Rocky Patel, Jorge Padrón, Robert Levin, Litto Gomez, Carlos Fuente Jr., Eric Newman and others who have joined him in the halls of government.
"The industry has gotten a lot better, with more support," he says. He terms the anti-smoking organizations "the enemy," and calls them "effective," and "motivated." But he also knows they would happily put him out of business for good. "They have a radical agenda—it's not about trying to tax it, the endgame is to eliminate it."
Borysiewicz, whom Loope dubs the "quarterback" of the CRA, has a knack for making his speeches persuasive without sounding like a sales pitch. And he's effective. On April 11, he started an online petition to show the White House how many people were opposed to having the FDA meddle in the premium cigar business. (The original goal was to get 25,000 signatures in a month, a goal that was reached in a mere 15 days.)
One thing that confounded him about smoking rights was the reason that cigarette smokers—who outnumber cigar smokers in America—aren't fighting with the same passion. He went on a sea cruise, and watched the differing reactions among the smokers in the small smoking area. The cigarette smokers seemed complacent, while the cigar smokers were insulted to have such a lowly space. "Cigarette smokers are always trying to quit—they're not happy and proud to be cigarette smokers. I realized there's no passion about cigarettes."
Borysiewicz feels it's the passion of cigar smokers like himself that can be the greatest asset in the fight to keep cigars lit in America. "They underestimated the passion people have for cigars," he says. And his newfound knowledge of American politics has shown him that if you don't get noticed in Washington, you can get run over.
"Regulating cigars is not a slam dunk," he says. Like a bulldog that's clamped onto an opponent, Borysiewicz doesn't believe in letting go. "You have to make them think—is this worth it?"
Borysiewicz is still optimistic about the long-term future of cigars—and thinks a middle ground can be struck. He's bet it all on Corona. "Everything is in this business—this is my retirement plan, this is my succession plan," he says.
"I learned—once I got involved in politics—you can change policy," says Borysiewicz. "But it's a lot of work, and it's never going to happen if you sit back."
Comments
1 comment(s)
Derek Wotton — Deltona , Florida , — July 8, 2013 7:54pm ET
---
You must be logged in to post a comment.
Log In If You're Already Registered At Cigar Aficionado Online