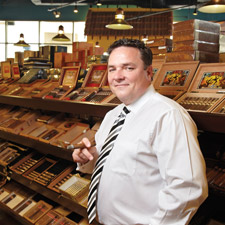 Borysiewicz, whose large retail stores are modeled after big-box stores, joined the fight against onerous cigar tariffs when a floor tax on his entire inventory threatened to crush his business.
The Cigar Crusader
Corona Cigar Co.'s Jeff Borysiewicz owns some of the largest cigar stores in the world, but he finds himself spending most of his time fighting for your right to smoke a cigar
(continued from page 2)
In 1998, Borysiewicz moved from his home into his first cigar shop, a modest 1,500-square-foot shop in Ocee, Florida, not far from where he lived. (That location is no longer open.) His big move came when he opened his grand Sand Lake Road Store in 2002. Not far from Universal Studios and Sea World theme parks and the Orlando Convention Center, it is modeled after big-box retailers. Instead of having a walk-in humidor and a separate humidified storage area, he opted to put all of his cigars on display. "I had a lot of inventory," he says with a shrug. "There's no sense hiding that shit. I humidified the whole store. It's like a Disney World of cigars. That's the way retail has gone—they're superstores. That's what consumers want." Today, with some two million cigars in inventory spread across the three shops, most of them are out on the sales floor.
From the start he wanted his stores to be places to gather, but his blue-collar background didn't mesh with the fancy image he saw with most upscale cigar bars. "A lot of the cigar clubs that were out there were leather chairs, very fancy. I wanted to cater to everybody where everybody felt welcome. I realized the culture of cigars is not like the culture being displayed in most cigar stores."
Any cigar lover who walks into a Corona Cigar store—there are three, all in Orlando—is sure to be impressed. Corona Cigar seems to stock everything. Walking around, discussing his selection, Borysiewicz is obviously (and understandably) enamored with the higher-priced items. Borysiewicz sells via mail-order and retail, but does better in his brick-and-mortar shops. He finds the retail customers spend more per cigar.
"If a guy is only going to smoke one cigar a week, he better smoke the best he can afford," he says. Each shop has a place to sit and smoke: Sand Lake, a 5,000-square-foot store that also doubles as Corona Cigar Co. headquarters, has seats inside and out, and a bar area serving beer, wine and Port. His Heathrow store is 3,500 square feet and has an Avo Lounge.
His pinnacle store is the one in downtown Orlando, on the corner of Orange and Pine, steps from the University of Central Florida and the landmark old Rosie O'Grady's building.
"This is my favorite store," he says, walking into the 8,500-square-foot shop, with its Diamond Crown Lounge. Aisles of cigars in open boxes beckon to the visitor. A terra-cotta roof dominates one wall, a fountain sits in the middle of the seating area and the store has a full bar with a particularly strong selection of single-malt whiskies, a newer obsession for Corona Cigar Co. (Borysiewicz's wife, Tanya, is Scottish, and the two travel frequently to the land of fine whisky.) He also buys Four Roses and Jack Daniel's by the barrel, picking the yeast strain and proof on the former.
The cocktail bar is delightfully old school: there are no mixers, no simple syrup, only fresh juices and real sugar. "We want to go back to the 'Mad Men' era with cocktails and fine cigars," says Borysiewicz. He orders an Old Fashioned; his visitor opts for a Mojito made with Ron Zacapa. Cigar ashtrays are everywhere—the entire store, naturally, is smoker friendly. Customers sit throughout the store, a group of men watching a baseball game in one area, an executive on his lunch break with a pizza he's brought in from outside. All have lit cigars. "The idea was to build a place, a mecca, where if you don't like cigar smoke, you're in the wrong place."
The store also stocks rarities in both liquor and cigars. There are pre-embargo Cuban cigars that he sells for a dear price, like old Ramón Allones for $175 each, and old bottles of whiskey from the Prohibition era, some with the doctor's prescription still attached as well as the admonition "for medicinal purposes only." Not long ago a customer came into the downtown store, looked at a bottle of vintage Bacardi rum in a gallon jug that was made in Cuba many years ago and bought it, for $15,000.
"If you want to spend $7, we're glad to do it. You want to spend $7,000, you can do it too," he says. "If it's worth having, we'll have it."
It's a big business to run, with 85 employees. All of Borysiewicz's lobbying work for the CRA has had an effect on Corona. "In the past, all this time I spent on regulations, I spent on my business. It's expensive to do this."
Comments
1 comment(s)
Derek Wotton — Deltona , Florida , — July 8, 2013 7:54pm ET
---
You must be logged in to post a comment.
Log In If You're Already Registered At Cigar Aficionado Online