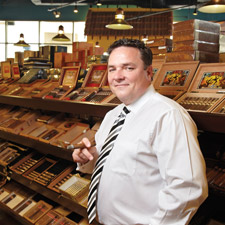 Borysiewicz, whose large retail stores are modeled after big-box stores, joined the fight against onerous cigar tariffs when a floor tax on his entire inventory threatened to crush his business.
The Cigar Crusader
Corona Cigar Co.'s Jeff Borysiewicz owns some of the largest cigar stores in the world, but he finds himself spending most of his time fighting for your right to smoke a cigar
(continued from page 1)
"He's been a great savior for the entire industry," says Rocky Patel, who works with Borysiewicz on the CRA legislative committee on what Patel says is a daily basis. "Jeff is not only a great retailer but a heroic fighter for premium cigars," says Michael Herklots, the manager of  the Nat Sherman store in New York City.
Borysiewicz's current point of focus? HR 1639, the Traditional Cigar Manufacturing and Small Business Jobs Preservation Act of 2011, a resolution aimed at exempting the premium cigar industry from the control of the Food and Drug Administration, which has been given authority over all tobacco products sold in the United States. Thanks to the efforts of Borysiewicz and others, the resolution has 145 sponsors and cosponsors from 34 states in Congress, and on both sides of the aisle.
"He is obsessed with this legislation," says J. Glynn Loope, executive director of the Cigar Rights of America. "It's a good thing that Corona Cigar Co. is a well-greased machine, because he's made this mission his No. 1 job. Every retailer in America owes Jeff a word of thanks. He's motivated the industry."
Borysiewicz (the name is daunting on paper, but surprisingly easy to pronounce when you hear it spoken: BORE-suh-wits) has been working hard since he was a young man. He was born in Chicago, and moved to Orlando when he was six. "This is home," he says. He joined his father in the family auto service center business in Orlando when he was in high school. "I was 15 when I started," he says. "I worked my way through college. UCF [University of Central Florida] I got a degree in business. The auto business was successful, but we reached a limit to how big that business could get. I wanted to find something that had a long-term plan, a growth opportunity."
He had a passion for two things: offshore fishing and smoking cigars. "I didn't think I could take on Bass Pro Shops," he says with a smirk, "so I decided upon cigars."
He began smoking cigars in 1992—a friend introduced him to his first—and soon he was puffing on the boom-time brand Cacique. "I would smoke them in the garage while brewing beer, playing poker, fishing," says Borysiewicz. "We'd split boxes—a box was $30."
Borysiewicz started studying the cigar market. He went to a Big Smoke Las Vegas in 1995, and heard Carlos Fuente Jr. speak. "That was a real awakening," he says. In 1996 he began selling cigars via a catalog while sticking with the auto business. The following year he opened an Internet site. His first cigar account was Pedro Martín's Tropical Tobacco, the maker of the Cacique brand he loved to smoke, along with V Centennial and Don Juan. He then took on Miami Cigar & Co.'s Don Tomás and Astral lines.
When he formed Corona Cigar Co. in 1996, it was a one-man operation. He brought a business plan to the local bank, and it offered a $30,000 loan—if he put up his boat and car as collateral. The business began out of his house, with the auto center serving as headquarters number two, as he carried both jobs. "Cigar reps would show up to the repair shop," he says. He was the only employee for two years, writing the catalog, ordering the cigars, packing the shipments.
Times were lean, but he made do. It was three years before he took a paycheck. The Corona Cigar logo was done as a barter deal. "I traded an oil change for the logo," he says with a bit of pride, a thumb pointing at the company's emblem, a red crown stitched on the breast of his guayabera, the pockets stuffed with cigars. The bank loan proved insufficient, and he had to max out his credit cards to keep things afloat.
It wasn't the best time to open a cigar business. The late 1990s were the slump after the boom, but Borysiewicz proved adept at making changes. "I grew during the cigar bust," he says. "Selling, closeouts, hustling."
Comments
1 comment(s)
Derek Wotton — Deltona , Florida , — July 8, 2013 7:54pm ET
---
You must be logged in to post a comment.
Log In If You're Already Registered At Cigar Aficionado Online