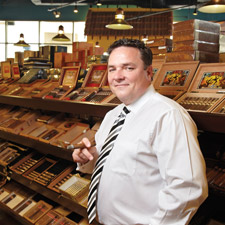 Borysiewicz, whose large retail stores are modeled after big-box stores, joined the fight against onerous cigar tariffs when a floor tax on his entire inventory threatened to crush his business.
The Cigar Crusader
Corona Cigar Co.'s Jeff Borysiewicz owns some of the largest cigar stores in the world, but he finds himself spending most of his time fighting for your right to smoke a cigar
Most Americans make their first visit to the marbled steps of Washington, D.C., as a child, perhaps as part of a school trip to visit the presidential monuments or on a family vacation to smell the cherry blossoms in full bloom. Jeff Borysiewicz, the founder and president of Corona Cigar Co., didn't go to his nation's capital until he was 37 years old, when he found himself in a dogfight to save his cigar company.
"I almost lost everything," says Borysiewicz, a dark-haired, 42-year-old with a square build and the thick forearms of a working man. He built his business from scratch, maxing out a pair of credit cards and taking bank loans on a car and a boat to finance it. Today he's one of the most prominent cigar retailers in the United States, with superstores that stock some 2 million cigars representing virtually every premium cigar brand on the market. That first trip to Washington came because he was at risk of losing the business.
"It was 2007. I was building the downtown store—the most expensive store I ever did," he says. "The construction company started digging the footers, and here comes SCHIP."
SCHIP is the State Children's Health Insurance Program, a piece of legislation intended to help provide health care for uninsured children. It gets its funding through increased tobacco taxes. The first draft of the bill called for a tax of up to $10 per cigar, and a provision, known as a floor tax, that would have made retailers pay the tax on every cigar in their inventory. Borysiewicz, whose business model was built on large inventory, would have been ruined.
The bankers funding Borysiewicz's new construction loan got an immediate case of cold feet. "The bank calls, wants to pull the loan," says Borysiewicz. "I'm on the hook for more than $1 million." It was fear, plain and simple, that put Borysiewicz on a plane to Washington to plead his case.
"I went up there in a panic. It was nothing more than adrenaline—fight or flight." Cigarmaker Rocky Patel and retailer David Berkebile, the owner of Georgetown Tobacco, were there with him. They met a group of senators: Sen. Bill Nelson (D-Fla.), Sen. Tom Harkin (D-Iowa), and Mel Martinez, then a Republican Senator from Florida, as well as staff members from the Senate Finance Committee.
"I had never been to Washington in my life, never got involved in politics," he says. The trip was a revelation. Borysiewicz not only discovered that the politicians shaping our laws seemed to enjoy hearing directly from the business owners who would be impacted by the laws they made, he also discovered that many of them were completely ignorant of the world of premium cigars and thought that tobacco was simply cigarettes. "They didn't know the difference between a Marlboro and a Macanudo," he says in his Orlando headquarters, located on the second floor of his second-largest store. He goes to his cluttered desk—Borysiewicz has two oversized desks in his office, a clean one for meetings and a somewhat messy one with a computer for doing work—and grabs a massive briefcase, which travels with him to D.C. He takes out a few premium, hand-rolled smokes, then brings out packs of machine-made cigars flavored with grape and pipe tobacco. It's his toolkit, a sample case to demonstrate the differences between the premium cigars—the ones that he sells—and the cheap items resembling cigarettes that are found in convenience stores.
The trip helped. The tax was lowered, the floor tax eliminated and Borysiewicz found new bankers to front his loan and build that grand store. Furthermore, Borysiewicz learned he and his cigar industry colleagues could help transform the SCHIP legislation from a beast that would hobble the premium cigar industry into a mere speed bump.
It lit a spark under Borysiewicz. "I realized the small individual could make a difference," he says. "I think a lot of people fear politicians, but there's nothing more powerful than the voice of a constituent. It's amazing how effective grassroots lobbying can be."
That first trip led Borysiewicz into a role as a champion of the cigar business. SCHIP pulled the cigar industry closer together, and led to Keith Park and Borysiewicz founding Cigar Rights of America, the consumer organization that stands up for cigar smokers. Today Borysiewicz serves as chairman of the organization. He has gone from D.C. novice to well-traveled Washington hand, with nearly 40 trips over the past six years.
Comments
1 comment(s)
Derek Wotton — Deltona , Florida , — July 8, 2013 7:54pm ET
---
You must be logged in to post a comment.
Log In If You're Already Registered At Cigar Aficionado Online