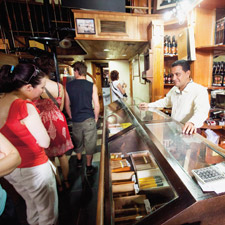 The Casa del Habano at the Partagás Cigar Factory always seems to be packed with eager buyers.
Buying At The Source
Purchasing Cuban cigars in Havana can mean good bargains, especially when you stick to the older brands.
(continued from page 1)
You start to experience sticker shock with Cuban cigars when you move into newer, more limited items. The Cohiba 1966 EL 2011 retails for 241 cuc for a box of 10 cigars, or 24 cuc each. (And it's an amazing cigar—we scored it 94 points in Cigar Aficionado.) The largest of the Cohiba Behike trio, the BHK 56, sells for 260 cuc per box of 10 in Cuba, 26 cuc apiece, but it has always been outscored by the smaller (and somewhat cheaper) Cohiba Behike BHK 52, our 2010 cigar of the year. It sells for 180 cuc per box, or 18 cuc per cigar.
The Montecristo No. 2 Gran Reserva, which only made its way to Cuban cigar shops in the past six months or so, has the eye-popping price of 500 cuc ($550) for a box of 15 cigars, or 33 cuc ($36) per stick. Only 5,000 of the cigars were made, and they have been very hard to find inside or outside of Cuba. Gordon Mott and I didn't see any on the shelves in Cuba during the week we were there for the Habanos Festival.
Cuba's myriad cigar shops remain a buyer's paradise for Cuban cigar lovers. And if you stick to certain cigars, the prices are cheaper than you might expect. As with all cigars, the highest price doesn't necessarily mean the best smoke. Even in Cuba.
Comments
1 comment(s)
Kevin Shah — Shah Alam, Selangor, Malaysia, — October 13, 2012 1:22am ET
---
You must be logged in to post a comment.
Log In If You're Already Registered At Cigar Aficionado Online