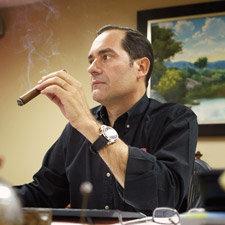 Guillermo León in his office, puffing on a cigar. León is the third-generation owner and president of La Aurora S.A.
The Aurora Effect
The oldest cigar company in the Dominican Republic does things its own way
(continued from page 2)
"People who no one had ever heard of were coming down to the Dominican Republic with a lot of money, buying the tobacco from farmers that we contracted for—farmers we were doing business with for decades. This didn't just happen with us. The whole industry faced this problem. Some of our growers, however, stayed loyal and honored our agreements."
León also explains another boom-time problem—the workers.
Cigar rollers would train at La Aurora and then be coaxed to another factory with the promise of more money. It's a practice that has always existed in the Dominican Republic to some extent, but was greatly
accentuated by the '90s need for skilled rollers.
"We opened a training school for cigar rollers. Some of them would train with us, and then leave," he says.
Despite the unusually high demand, La Aurora never ran out of tobacco. "Our problem wasn't with available tobacco," León says. "We could always meet demand. The problem was with future inventory." Leon frowns a bit, shakes his head and sighs. His eyes widen for a moment as though reliving a nightmare. "Planning for the future—it was tough."
The situation eventually reversed itself. In 1998, the intense demand for cigars had settled and Aurora found itself sitting on a cigar surplus with 5 million finished sticks in inventory that the company was looking to move. Rollers were laid off, and León set to focus more on quality.
The factory continued to produce quality premium smokes and León, along with his father, brought the factory to its 100-year milestone anniversary in 2003. To celebrate, La Aurora created a limited run of 400,000 cigars called 100 Años (known as Cien Años, Spanish for 100 years), a Dominican puro made with Corojo wrapper and Corojo filler that the company had been growing in country since 1999. Cigars made solely with Dominican tobacco are still uncommon in the world of premium smokes on account of how difficult it is to grow the wrapper leaf, but the Aurora 100 Años is one of the few brands that still comes to mind when considering exceptional Dominican puros. Though it came in four sizes, the Belicoso was such an exceptional standout, it ended up as Cigar Aficionado's No. 2 Cigar of the Year for 2004.
"Cien Años was a very special project," recalls León. "We wanted to use the best of the best." There are very few 100 Años left, but the line's popularity has inspired Aurora to seriously consider reintroducing the line. Details were not available at the time this story went to press, but plans for a new 100 Años brand are in the works, most likely in a limited three-size run.
A lot has happened since the 100-year anniversary. In 2006 the partnership between Philip Morris and Empresa León ended; León's father and company patriarch Fernando León Asensio passed away in 2009; and last year, the family's corporate group made the decision to completely divest itself of La Aurora. Before the group could officially put the factory up for sale, León purchased it from his family for terms that were not disclosed. He is now the owner and operator of the oldest cigar company in the Dominican Republic.
"I didn't do it out of necessity," he says. "It wasn't about the money. The group wanted to focus more on the beverage end of the business, and I'm much happier."
You must be logged in to post a comment.
Log In If You're Already Registered At Cigar Aficionado Online