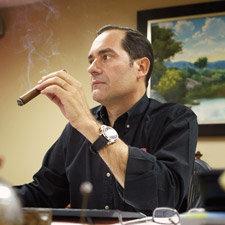 Guillermo León in his office, puffing on a cigar. León is the third-generation owner and president of La Aurora S.A.
The Aurora Effect
The oldest cigar company in the Dominican Republic does things its own way
When a visitor walks into a factory, he might be met with suspicious looks from the workers. It doesn't matter if the visitor makes himself as unobtrusive as possible, or if he's accompanied by the factory's top managers: his standout clothing and demeanor alone can disrupt the workflow. Even workers who pretend not to
notice can still be visibly distracted.
But this isn't the case at La Aurora S.A., the Dominican Republic's oldest cigar company. Rather, there's focus and concentration. Not the type of tense concentration that comes from oppressive managers or the prodding fear of unemployment, but the calm that comes from an entire room of people who are physically and mentally dedicated to their work. If 109 years in the business has taught La Aurora anything, it's that a happy workforce makes for great cigars. "Look around my factory," says Guillermo León, the company's president. "Do you see misery? No. They are happy because we take care of them. And they stay here a long time. For us, our number one asset is the people."
León is a quiet and commanding presence as he walks through his factory, trading glances with passing employees. The 51-year-old is handsome by any conventional standard, and congenial, though at the same time preoccupied with the details of his operation and not unnecessarily talkative.
"Don't write about this," he says as he passes by a large contraption. Yes, León is friendly, but guarded as well. Whatever that machine is, it looks quite modern compared to the rest of the old, yet well-maintained heavy equipment in the factory. Everything here runs with oiled efficiency.
Somewhere in its long history, La Aurora seems to have taken an atypical move for the cigar industry and adopted Japan's "5S" workplace principles. Banners hang from the high warehouse ceilings of the 150,000-square-foot-factory: Seiri—sorting; Seiton—stabilizing; Seiso—systematic cleanliness; Seiketsu—standardization; Shitsuke—sustaining.
Perhaps this is what it takes to last as long as Aurora has, but the company that now produces 8 to 10 million premium, handmade cigars per year (it makes even more flavored cigars by machine) started out in 1903 with only three rollers working out of a small space in the under-developed zone of Guazumal, a small town located between Santiago
and Tamboril.
"My grandfather, Eduardo León Jimenes, made cigars for local consumption," says León. "But he had to move to Santiago in 1912. The situation was difficult at the time. There weren't a lot of roads. His cigar was simply called La Aurora."
The cigars back then were made mostly of Dominican tobacco with Indonesian or Cameroon wrappers. Wrapper leaf was not grown in the Dominican Republic at the time, so it had to be imported, but binder and filler tobacco was readily available. While some of it came from a few family-owned plots, much of it was procured from other local growers.
By 1945, the business had expanded, and La Aurora began exporting its cigars to other Caribbean islands, requiring León's grandfather to establish closer business relationships with local farmers, purchasing the tobacco in addition to growing some himself. It wasn't until the 1950s that Guillermo's father, Fernando León Asensio, took over the operation.
"My father really knew tobacco," says León. "He had a keen sense for it and could identify its origins very easily. I remember one time we were buying some tobacco from another farmer and my father looked at the tobacco, which was packed in a 100-pound tercio. One guy came with a hand-truck and put the bale of tobacco right in front of him. My father inspected the leaves, took a few out, smelled them and said to the farmer 'This isn't yours. This isn't your tobacco. This comes from someone else.' And he was right. The farmer admitted it."
You must be logged in to post a comment.
Log In If You're Already Registered At Cigar Aficionado Online