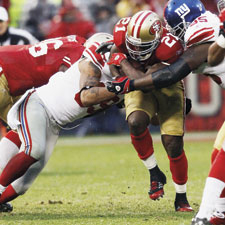 Combine the crushing running power of Frank Gore (above) with new wideout star Mario Manningham and the 49ers should rumble to big wins in 2012.
2012 Football Forecast
Our sports expert makes bold predictions for the NFL season after an offseason of scandal and high-profile trades.
(continued from page 6)
4. Minnesota Vikings
Viktor the Viking hasn't had much to cheer about lately, especially since those evil Saints put that bounty on old Brett Favre. The deal for Donovan McNabb was a McFlop, and Christian Ponder ended his rookie season with a 70.1 rating. WR Percy Harvin (87 receptions, 967 yards) was his only ally after RB Adrian Peterson was lost with a torn ACL. Aside from DE Jared Allen (NFL-best 22 sacks), the Purple People Eaters starved with a feeble secondary that went from a Cover 2 to a Cover No One. No. 1 draft tackle Matt Kalil (USC) will keep Ponder in one piece. Safety Harrison Smith (Notre Dame) and CB Josh Robinson (Central Florida) are needed against Rodgers, Stafford and Cutler.
NFC South
1. New Orleans Saints
Who Dat fans are undoubtedly drowning their sorrows on Bourbon Street in the wake of the Bountygate suspensions of Coach Sean Payton for a year, GM Mickey Loomis for eight and assistant Joe Vitt for six, the loss of two draft picks, a $500,000 fine and the one-year suspension of MLB Jonathan Vilma (replaced by Curtis Lofton) and a four-game penalty for DE Will Smith.
Following a flirtation with Bill Parcells, management wisely named Vitt interim coach. But every little breeze seems to whisper Drew Brees, who threw for an NFL record 5,476 yards and 46 TDs with a 70.2 completion percentage. He was fortunate that guard Ben Grubbs will replace Carl Nicks (Bucs). Expect more fireworks from TE Jimmy Graham and RB-KR Darren Sproles.
2. Atlanta Falcons
Despite their regular-season success (10-6), the Falcons have been blown out in the playoffs by the Packers and Giants the last two years.  After a slow start, QB Matt Ryan had his best season statistically (4,177 yards, 29 TDs). Michael Turner led the NFL in rushing (1,340 yards) while rookie WR Julio Jones (959 yards) looks like a can't-miss star opposite Roddy White. The trenches need to be upgraded for the Birds to reach the next level, and No. 2 draft pick Peter Konz (Wisconsin) is a keeper. Coach Mike Smith strengthened the secondary by acquiring CB Asante Samuel from Philly. At least owner Arthur Blank can take solace knowing that Bobby Petrino no longer has the keys to the complex.
3. Carolina Panthers
Jerry Richardson's decision to draft swaggerlicious rookie QB Cam Newton with the No. 1 pick gave Panther fans plenty of cheer as he set rookie records (4,051 yards, 21 passing touchdowns and 14 rushing TDs while rampaging for more than 500 yards). He lifted a 2-14 sad sack team to a 6-10 mark, with three of the losses by five points. WR Steve Smith played the biggest part in Newton's success along with RB DeAngelo Williams, but Coach Ron Rivera needs to bolster a defense that was drilled for a franchise-record 6,237 yards. DE Charles Johnson still needs help from a pass-rushing sidekick, but at the very least he has a tackling machine behind him in Luke Kuechly (Boston College), who was the first linebacker drafted.
You must be logged in to post a comment.
Log In If You're Already Registered At Cigar Aficionado Online