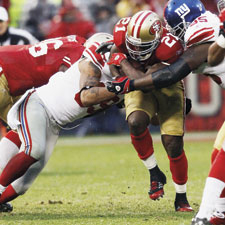 Combine the crushing running power of Frank Gore (above) with new wideout star Mario Manningham and the 49ers should rumble to big wins in 2012.
2012 Football Forecast
Our sports expert makes bold predictions for the NFL season after an offseason of scandal and high-profile trades.
(continued from page 5)
4. Washington Redskins
The Redskins surrendered three No. 1 picks and a No. 2 to select QB Robert Griffin III. One former Super Bowl-winning coach confessed to me that no No. 1 is worth two No. 1 picks, let alone three, but Mike Shanahan was desperate, and you would be too after watching Rex Grossman (RG minus III) and John Beck (who's been released) throw more INTs than TDs. Shanny raised more eyebrows taking QB Kirk Cousins (Michigan State) in the fourth round. With his dashing legs and dazzling arm, Griffin has a chance to be another Cam Newton. Adding ex-Colt WR Pierre Garçon, a deep threat, will be a godsend. OLBs Brian Orakpo and Ryan Kerrigan can bring the heat.
NFC North
1. Green Bay Packers
What a shocking end for a 15-1 team that was an odds-on Super Bowl favorite.  MVP QB Aaron Rodgers ignited a high-octane offense that produced an NFL-high 35 points a game with one of the greatest years by a quarterback. His Herculean work with WR Jordy Nelson playing Robin to Greg Jennings' Batman was sabotaged by a defense that was last in yards allowed. Mike McCarthy's secondary surrendered a league-high record 299.6 yards a game despite pulling down the most interceptions (31).
Craving a pass rusher opposite Clay Matthews, GM Ted Thompson sacked No. 1 pick OLB Nick Perry, and drafted six straight defensive players, trading up for three of them. "That tells you that we're going to win another championship," gushed CB Charles Woodson.
2. Detroit Lions
The Lions returned to the playoffs for the first time since 1999 as Matthew Stafford established himself as a top-tier quarterback, throwing for 5,038 yards and 41 TDs after missing 19 games his first two years. Stafford has an unstoppable weapon in WR Calvin (Megatron) Johnson (96 catches, 1,681 yards, 16 TDs) but needs a healthy Jahvid Best (390 yards) to recharge a 29th-ranked rushing attack. No. 1 draft OT Riley Reiff will be protecting Stafford for most of the next decade. Ndamukong Suh is the king of beasts on defense, as long as he doesn't rattle Roger Goodell's cage and stomp on any offensive linemen. The next Jim Schwartz-Jim Harbaugh postgame handshake needs to be a pay-per-view event.
3. Chicago Bears
QB Jay Cutler won over his detractors before sustaining a broken thumb, and Da Bears (8-8) lost five of their last six games without him. Cutler is now reunited with ex-Miami WR Brandon Marshall, who torched secondaries for 2,590 yards in 2007 and 2008 in Denver. "I'm happy to get him," beamed Cutler. The Bears need to fortify the offensive line, which was bulldozed last season for 49 sacks. While hoping RB Matt Forte bounces back strong from a torn medial collateral ligament, the Bears prudently added ex-Raider RB Michael Bush. No. 2 draft WR Alshon Jeffery (South Carolina) gives Cutler another big target. Lovie Smith hopes he has a Monster of the Midway opposite DE Julius Peppers in No. 1 draft DE Shea McClellin (Boise State).
You must be logged in to post a comment.
Log In If You're Already Registered At Cigar Aficionado Online