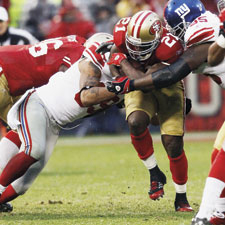 Combine the crushing running power of Frank Gore (above) with new wideout star Mario Manningham and the 49ers should rumble to big wins in 2012.
2012 Football Forecast
Our sports expert makes bold predictions for the NFL season after an offseason of scandal and high-profile trades.
(continued from page 3)
4. Indianapolis Colts
After 13 years, 54,828 yards, and an average 10.6 wins a season, the glorious Peyton Manning Era is over. QB Andrew Luck, the first overall selection in the 2012 draft, better brace himself for growing pains. New coach Chuck Pagano needs help everywhere, especially in the secondary. The horseshoes are years away from relevance. When Manning took over in l998, the Colts went 3-13—with Marshall Faulk and Marvin Harrison. I don't see anybody like that on the Colts' roster. But Luck was grateful the Colts drafted TE Coby Fleener (Stanford), TE Dwayne Allen (Clemson) and speedy WR T.Y. Hilton (FIU). The shrimp cocktail at St. Elmo's Steak House will make Luck's eyes tear almost as much as Pagano's defense.
AFC West
1. Denver Broncos
Tebowmania electrified the Mile High city—until Manningmania displaced it before you could say God almighty! Despite a 46.5 completion percentage, Tim Tebow willed the Rocky Mountain Men to the playoffs. But Manning is John Elway's idea of a Super Bowl quarterback, and that's why Denver is now Peyton's Place.
Manning is confident he can thrive with the league's top running game, led by Willis McGahee (1,199 rushing yards) and John Fox's emerging defense, led by OLB Von Miller. He has a pair of young, promising wideouts in Demaryius Thomas and Eric Decker and familiarity with ex-Colts TE Jacob Tamme and WR Brandon Stokley. Brock Osweiler (Arizona State) is the 6-foot-7 QB of the future.
2. San Diego Chargers
Considered a Super Bowl contender, Chargers GM A.J. Smith and Coach Norv Turner barely survived an 8-8 season. QB Philip Rivers floundered, but could thrive again with RB Ryan Mathews primed for a breakout year. The Bolts were electrocuted by the departure of deep threat WR Vincent Jackson (Bucs) so  they imported Robert Meachem from the Saints. Now that they play Peyton Manning twice a year, the urgency to find a pass rusher compelled Smith to grab 6-foot-1, 264-pound defender Melvin Ingram (South Carolina) in the first round. Asked about Ingram's short arms, Smith responded: "I think Melvin will have the same problem Tyrannosaurus Rex had millions of years ago."
3. Kansas City Chiefs
Interim coach Romeo Crennel impressed management by spoiling the Packers' bid for a perfect season. Crennel, the defensive coordinator for five Super Bowl-winning teams, has a leader in OLB Tamba Hali (12 sacks, four forced fumbles), but needs to improve an offense that scored the second lowest in the league. Adding Peyton Hillis to pair with RB Jamaal Charles (back from an ACL injury) is a step in the right direction. But can the Chiefs win with Matt Cassel throwing to Dwayne Bowe? Nose tackle Dontari Poe was the team's No. 1 pick because no 345-pounder had such an eye-popping combine workout, but the Chiefs better keep him away from Arthur Bryant's barbecue.
You must be logged in to post a comment.
Log In If You're Already Registered At Cigar Aficionado Online