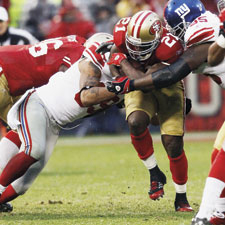 Combine the crushing running power of Frank Gore (above) with new wideout star Mario Manningham and the 49ers should rumble to big wins in 2012.
2012 Football Forecast
Our sports expert makes bold predictions for the NFL season after an offseason of scandal and high-profile trades.
(continued from page 1)
4. Miami Dolphins
The Fish (6-10) became a laughingstock after a floundering offseason of futility. First, owner Stephen Ross lost Jeff Fisher to the Rams and settled for former Packers offensive coordinator Joe Philbin, who couldn't recruit QB Matt Flynn to the Sunshine State. David Garrard, who was sidelined last year with a surgically repaired back, was summoned to back up Matt Moore as Peyton Manning didn't want to take his talents to LeBron James' South Beach. Moore lost WR Brandon Marshall to the Bears, then watched the club draft Texas A&M quarterback Ryan Tannehill with the eighth pick. Philbin, the seventh coach for the Dolphins in 10 years, is hoping to build his offense around Reggie Bush, but if Kim Kardashian's old flame is bitten again by the injury bug, well, there's always Jeb Bush.
AFC North
1. Baltimore Ravens
John Harbaugh was a dropped pass away from winning the AFC title and getting to the Super Bowl, as WR Lee Evans let QB Joe Flacco's end zone pass slip through his fingers in the closing minute against the Patriots, denying coach John Harbaugh his first Super Bowl berth. RB Ray Rice was the Ravens' standout with 2,068 rushing-receiving yards (76 receptions). Baltimore was 9-0 when he toted the mail at least 20 times.
Led by 37-year-old Ray Lewis, quarterback menace Terrell Suggs (who may miss at least half of the season with a torn ACL) and massive roadblock Haloti Ngata, the defense is still a powerhouse. Ozzie Newsome drafted OLB Courtney Upshaw (Alabama) to keep it that way.
2. Pittsburgh Steelers
Rebounding from an opening-day trouncing in Baltimore, the Steelers won 12 of their next 15 games to make the playoffs. They overcame a number of injuries as the defense allowed the fewest regular-season yards (4,348). QB Big Ben Roethlisberger had a big year (4,077 yards, 21 TDs) but took a big beating (40 sacks) and missed two games. He was ecstatic when Mike Tomlin made Stanford guard David DeCastro and Ohio State tackle Mike Adams his first two picks. RB Rashard Mendenhall (knee surgery) is a question mark. Rising star WR Antonio Brown became the perfect complement to Mike Wallace. Emmanuel Sanders replaces "Dancing With the Stars" star Hines Ward, who retired. ILB James Farrior also retired, but Hall of Fame defensive coordinator Dick LeBeau did not.
3. Cincinnati Bengals
The youthful Who Deys (25.7 average age) surprised as a wild card with rookie quarterback Andy Dalton (3,398 yards and 20 TDs), who replaced QB Carson Palmer and made an immediate connection with fellow rookie WR A.J. Green (65 catches, 1,057 yards). RB Cedric Benson (1,076 rushing yards) is gone, replaced by BenJarvus Green-Ellis (Pats). Mike Zimmer's defense did its part with 45 sacks, fifth in the NFL. Marvin Lewis moved swiftly to infuse new blood to the secondary with No. 1 pick CB Dre Kirkpatrick after the defection a year ago by Johnathan Joseph (Texans), and bolstered his offensive line with fellow first-round pick G Kevin Zeitler (Wisconsin).
You must be logged in to post a comment.
Log In If You're Already Registered At Cigar Aficionado Online