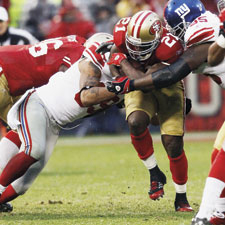 Combine the crushing running power of Frank Gore (above) with new wideout star Mario Manningham and the 49ers should rumble to big wins in 2012.
2012 Football Forecast
Our sports expert makes bold predictions for the NFL season after an offseason of scandal and high-profile trades.
It was a busy and unsettling offseason in the NFL, as the Saints lost players and coaches to suspension, high-profile quarterbacks Peyton Manning and Tim Tebow landed in new homes, and former Chargers linebacker Junior Seau was found dead following an apparent suicide, prompting calls for further concussion vigilance.
Cigar Aficionado's gridiron guru has analyzed the strengths and weaknesses of each team, predicts how each will finish in their divisions, and calls the Super Bowl winner.
AFC East
1. New England Patriots
Classy owner Robert Kraft's players dedicated 2011 to his beloved late wife, Myra, and almost wrote a storybook ending, only to lose the Super Bowl to the Giants for the second time in four years on a last-minute touchdown. The Pats nevertheless further established themselves as the NFL's model franchise with their fifth Super Bowl appearance in 11 years. Tom Brady's arsenal of WR Wes Welker (a league best 122 receptions and 1,569 yards), and matchup nightmare TEs Rob Gronkowski and Aaron Hernandez was strengthened with the addition of Brandon Lloyd, Jabar Gaffney and RB Joseph Addai. Bill Belichick upgraded his 31st-ranked defense with first-round draft selections Syracuse pass rusher Chandler Jones and 265-pound Alabama linebacker Dont'a Hightower. The Krafts never lose back-to-back Super Bowls.
2. New York Jets
The surprise trade for Tim Tebow brings a sexy QB controversy to Broadway. Judge Judy's courtroom had more harmony than Rex Ryan's locker room last season, where inmate Santonio Holmes nearly ran regressing Mark Sanchez (78.2 QB rating) out of the asylum. "We don't need Tim Tebow," tweeted CB Antonio Cromartie.  "I don't think they know what they're doing," added Jet icon Joe Namath. Tebow shrugged it off.
With Plaxico Burress jettisoned, GM Mike Tannenbaum drafted Georgia Tech blazer Stephen Hill to ease the burden on the Ground-and-Pound Ryan and Tony Sparano have in store. If No. 1 pick DE Quinton Coples (North Carolina) can't upgrade the pass rush, Ryan might be forced to start Tebowing at the feet of owner Woody Johnson. For now, Ryan guarantees no more guarantees. Guaranteed that won't last.    
3. Buffalo Bills
Buffalo stampeded to a first-place start before QB Ryan Fitzpatrick injured his ribs and Fred Jackson broke his leg. The offensive line allowed the fewest sacks in the league and No. 2 pick Cordy Glenn, as big as a buffalo, replaces LT Demetress Bell. A porous defense that surrendered a franchise-worst 5,938 yards doomed the Bills, which is why there is such a buzz about the signing of heralded free agent DE Mario Williams. DE Mark Anderson (Patriots) and No. 1 pick CB Stephon Gilmore will help, but Coach Chan Gailey still needs a bookend for WR Steve Johnson. Journeyman QB Vince Young won't threaten Fitzpatrick. "I think we have a legitimate chance to win the division," says Gailey, who may be watching too many Rex Ryan press conferences.
You must be logged in to post a comment.
Log In If You're Already Registered At Cigar Aficionado Online