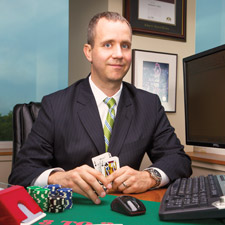 Professional financial advisor Nathaniel Tilton has turned card-counting into a lucrative sideline.
The Casino Portfolio
Money management, strategic calculus and discipline can equal long-term profit in the gambling game
(continued from page 3)
Additionally, he says, the continual hunt for fresh betting outlets can become a grind, and you want good reasons to believe that you will not get stiffed by the many bookies you must invariably deal with. On the upside, it's a lot slower—and therefore financially safer—than day-trading or casino gambling, and the edge is strong enough that you can make some mistakes and still maintain an advantage. "Plus," he says, "it's a hell of a lot of fun, you get to sweat all these games and you have the best of it. It's the hobbyist's way of beating gambling, and I know it works."

Michael Kaplan is a Cigar Aficionado contributing editor.
You must be logged in to post a comment.
Log In If You're Already Registered At Cigar Aficionado Online