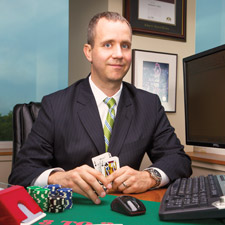 Professional financial advisor Nathaniel Tilton has turned card-counting into a lucrative sideline.
The Casino Portfolio
Money management, strategic calculus and discipline can equal long-term profit in the gambling game
(continued from page 2)
He taught himself by getting lessons from the game's most adept practitioners. "I railed the best players online," he says. "I recognized who won the most money and watched how they did it before I played a single hand. I ramped up my aggression and looseness levels to what the best players were doing, even if it seemed unnatural. The style worked for winning players, even when they didn't have hands. I learned that, on the whole, the best players play aggressively. In poker, to be aggressive is good." Kim got his lessons via PokerStars.com, a website that is no longer open to Americans. Those who want to learn by watching can now sign up with smaller sites like CarbonPoker.com, where Americans are can play and observe in order to glean tips from more experienced players.
And while online poker is currently a darker shade of gray than it was two years ago (the biggest potential downside is that you'll deposit money and have a hard time collecting your winnings), Kim advises to keep the deposit as small as $100, play for low stakes, and view the whole thing as a learning experience for live stud games in the casinos or online after it is legalized in America. "When you play online, it's easy to analyze your play and put in a lot of hand volume; it can take just a few months for you to get good," says Kim. And if you don't get your money out? Kim answers with a question: "How many things can you get good at for just $100? Think of how much it would cost for you to get good at golf."
Once you do start playing, think of poker as an entrepreneurial undertaking—one in which you strike out in regions where the competition is soft. And remember the importance of operating within your budget. "I never like to have more than 10-percent of my bankroll at risk at any given time," he says. "You have to remember that no matter how big your edge, you will lose some percentage of the time." But if your luck curve happens to start in the opposite direction, advises Kim, keep it in perspective. "I made $20,000 during my first month of playing $20/$40 poker," he remembers. "I figured that I would make a quarter-million dollars per year, no problem. But then I learned that things don't work that way."
SCAVENGER BETTING
Is it possible to make money by betting sports? Of course. An elite  coterie of gamblers earns serious cash by outfoxing bookies around the world. How do they do it?  "They devote their lives to it. It's a full-time job," says Anthony Curtis who already has a full-time job in the publishing industry. "Most people, on the other hand, don't know what they're doing, and they bet into what are essentially even money propositions, laying $11 for every $10 that they can win [that 10 percent is the vigorish or betting commission paid to the bookmaker for taking your action]. The number has been hammered into place, to where it is supposed to be. An average guy can't win over time."
But, Curtis points out, he and some friends have found a way to make money without doing a whiff of handicapping. He calls it shopping for numbers. I prefer the catchier scavenger betting. Either way, it's simple to implement, and they did it for much of the last football season. (Due to the time commitment, Curtis is not sure that he'll be doing it in a serious way this year.) "You look for lines that are out of whack with the rest of the marketplace," he says, suggesting that you can use pinnacle.com (an offshore sports betting site that takes no business from Americans but allows us to look at its rock-solid point-spreads) as a benchmark. "If somebody hasn't gotten the memo, you can take advantage of them."
Best of all, you don't need to know anything special about the sport. You're just looking for bookmakers who are either desperate to balance their books or incongruent with the rest of the world. "We'd make bets on things like Swedish handball or Aussie rules football. There was no handicapping or second-guessing," says Curtis. "It was only about finding inefficiencies.
During the NFL play-offs, we'd have six or seven prop bets per game. For example: Will Manning throw over or under a certain number of interceptions?"
Hearing this, I make the mistake of figuring that it would be virtually impossible to predict the number of interceptions thrown. Curtis replies, "You have it backwards. You want to believe that the market as a whole does know, and they can put a really good number on it. Then you find the guy who doesn't have that number. You do a ton of shopping and make a ton of bets, and if you like this sort of thing it's a lot of fun."
Curtis estimates that his edge was 3 to 7 percent, and he figures that a starting bankroll of $10,000 is plenty. Like most gambling, though, this can be swingy, so you need to be willing to withstand losses without altering your strategy.
You must be logged in to post a comment.
Log In If You're Already Registered At Cigar Aficionado Online