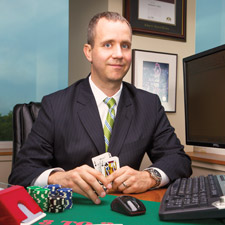 Professional financial advisor Nathaniel Tilton has turned card-counting into a lucrative sideline.
The Casino Portfolio
Money management, strategic calculus and discipline can equal long-term profit in the gambling game
(continued from page 1)
FANTASY FOOTBALL
Fantasy sports are popular. So popular that the Fantasy Sports Trade Association estimates 32 million people played in 2010, creating a $3 to $4 billion impact across professional sports. On the surface, fantasy football sounds pretty simple: a dozen or so guys get together, kick in a predetermined amount of money and draft NFL players onto fantasy teams. You get points based on each player's performance. Whoever has the most points at the end of the season wins the money. It doesn't matter whether or not a particular team wins (though that can help); it matters how the individuals that you have drafted perform. The majority of people involved in fantasy football view it as an adjunct to their regular betting and figure that they'll win if they get lucky. Chad Schroeder, who's taken down close to a million dollars over the last five years of playing fantasy sports, views it more like stock investing. He plays in multiple leagues and puts together what he hopes will be a balanced portfolio with some investments that have high-risk/high-reward components built into them.
The first thing he points out is that there are different kinds of leagues and money needs to be allocated in a smart way. Some leagues comprise just 12 participants; they're relatively easy to beat, but your return on investment is limited. Other leagues are composed of hundreds of participants; acing one of these events will require a good team that has been specifically designed to win big or die trying, and a fair bit of luck, but the payoff can be well into the six figures. If, let's say, you have $12,000 allocated for fantasy football, here's how Schroeder suggests investing the money: Spend $2,500 on entering a high-stakes national contest, put $1,050 into three national contests that have buy-ins of $350 each, and $1,500 into one more national contest. The remaining $4,950, he says, should be allocated for 12-man leagues with entry fees that range from $500 to $1,000. He suggests playing via the sites myffpc.com, nffc.stats.com and fulltimefantasy.com.
In terms of putting together teams, Schroeder recommends a two-tiered approach. For your 12-man leagues, go the blue-chip route and look for a strong, balanced portfolio of players. That is, he suggests spending your draft allocation (each team starts out with a set amount of theoretical money that can be applied toward buying players, just like in the real NFL) in a quest for value. Just as you shouldn't overpay for Google simply because it's Google, nor should you do the same with an NFL star. "Let's say I like Ryan Matthews," says Schroeder. "And let's say he normally goes in the middle of the second round. Even if I am targeting him, I will not push him up to the beginning of the second round."
When picking players for the big, national contests, Schroeder recognizes that the upside can be tremendous, and for that reason he suggests forgetting about balance. Think of it as playing the World Series of Poker main event, going for a win, and recognizing the need to have an aggressive end game. It's a swing-for-the-fences approach where you increase your likelihood of either flaming out miserably or having a heroic shot for the gold. To achieve that, he says, "Focus on choosing explosive players."
They either soar or fizzle. "Fast players, like Mike Wallace, are the ones who I consider to be explosive; but they're also streaky," says Schroeder. "They run a lot of deep patterns and you never know when they will be connecting." If you go deep in a big fantasy league, "the hope is that they will be connecting in week 14. It gets really competitive, and you need to take the kinds of educated gambles that allow you to keep scoring points. You can enhance that"—but also increase the risk—"by having a wide receiver and quarterback who play together. It's a way of doubling up."
Sometimes, Schroeder points out, the best advice is the most obvious: "Too often, people get hung up on worrying about match ups and how somebody did the week before. I simply go with the players who I think will score the most points and don't worry so much about short-term results or who they're going up against." In other words, he explains, "Avoid over-thinking things and making them more complicated than they are."
POKER
On a Friday evening in the Bellagio, card-playing guru David Sklansky sips from a cup of coffee and discusses what it takes for somebody to systematically learn to win at the game of poker. One of the first things he points out is that you need to find a game that you can beat. Often that means looking beyond standbys such as Texas hold'em. The goal, explains Sklansky, would be to get good at a game that hasn't become so popular that everybody else has already figured it out. To that end, he suggests focusing on seven-card stud. It's spread in many casinos but never grew into the media darling that hold'em is. Hence, it lacks the massive following that leads college kids to, as Sklansky puts it, "learn to play the game in a completely unexploitable way."
Luke Kim, who graduated from Wharton and worked for an investment firm before turning to poker full-time, spent years as a winning player who supplemented his 9-to-5 income with proceeds from the game. Though Kim says that good players can still find value in live ring games of Texas hold'em, he went the Sklansky route once he decided to play for a living. It was at a time when online poker was thriving in the United States and, rather than trying the popular six-handed variant, Kim
focused almost exclusively on playing heads up.
You must be logged in to post a comment.
Log In If You're Already Registered At Cigar Aficionado Online