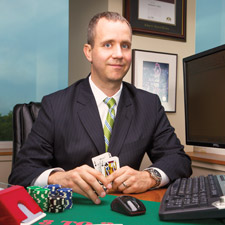 Professional financial advisor Nathaniel Tilton has turned card-counting into a lucrative sideline.
The Casino Portfolio
Money management, strategic calculus and discipline can equal long-term profit in the gambling game
In 2004 a British gambler by the name of Ashley Revell sold everything he had, did what he could to raise additional funds and eventually cobbled together a total of $135,000. In a highly publicized gambit, 32-year-old Revell flew to Las Vegas, went downtown to the Plaza Hotel & Casino and bet it all on a single spin of the roulette wheel. He wagered on red. Considering the zero and double-zero, he was getting less than even money and was clearly reckless. The ball spun around the wheel, bumped in and out of a few slots and miraculously landed on a red 7. Revell doubled his money, and—much to the chagrin of management at the Plaza—did not make another bet. Instead, he used the money to finance an online poker site, pokerutd.com. It launched in the U.K. (where online poker is legal) and remains in business today.
Things worked out for Revell. But suggesting that you risk it all on a spin of the wheel is patently bad advice. However, there is reasonably good advice for people who are inclined to gamble and might be looking for an alternative to alternative investing. After all, the stock market has been fairly lackluster for the last dozen years (as this story closes, the S&P 500 hovers around its March 1999 high). Considering that, what would happen if you took the money that you would ordinarily use for speculating the market and instead invested it in forms of advantageous gambling?
With tutelage, discipline and proper money management, it's possible to turn a long-term profit at sports betting, blackjack, poker and fantasy sports. Of course, such an endeavor is not easy and requires work, but for certain people—those who are inclined to gamble anyway—it's not necessarily a bad idea. "Gambling is an interesting way to make money, but it's more of a part-time job than an investment," says Aaron Brown, a risk manager at AQR Capital Management and author of The Poker Face of Wall Street, a memoir that includes details on his days playing high-stakes poker. On the upside, he adds, "The feeling you get from gambling where you have an edge and you are the house is great. It is completely different from playing a game where you expect to lose."
He points out, though, that there are certain personality types who will be likelier to succeed than others. "You want to be the person who gets energized when things go against you and the kind of person who keeps an even keel when things are going well." In other words, once you learn how to beat the gambling game, you have to beat the mental game—the one that can easily derail you from following the proper strategies or making the right bets due to short-term fluctuations. Brown cautions that those who do possess the proper qualities are a limited breed: "I'd say that 80 percent of the people who [attempt to become advantage players] don't do the work to learn the game and they don't have any kind of shot." Of the 20 percent who develop the skills, estimates Brown, 80 percent of them lack the proper money management abilities. "The inevitable downswings are hard to deal with psychologically. You need to have faith in yourself. That requires rare skills. It's why casinos earn money."
But if you can make it work, it's a fabulous way to generate extra income, which can easily surpass the 8 or 9 percent that Wall Street historically returns for investors each year. Besides the money, there is also the lifestyle that comes with being a frequent gambler of elevating stakes. As cheekily put by Nathaniel Tilton, a financial advisor who managed to successfully crack the secrets of blackjack, "One of the major perks of casino gambling is that hosts are always giving you free cigars. Conversely, when you invest on Wall Street, whether you make money or lose it, nobody sends you to shows and buys you dinner."
BLACKJACK
Nathaniel Tilton, financial advisor by day and casino-crushing card-counter on nights and weekends (he's elusive as to whether or not he remains in the gambling trade), serves as living proof that you can keep a day job, learn to count cards and live the life of a professional gambler when it suits you. Tilton, whose recently published memoir is entitled The Blackjack Life, backs up Brown's belief that gambling part-time cannot be a halfway enterprise. "You need to go all in and be completely devoted to doing everything  right," Tilton says. "You need to be perfectly bankrolled and perfect each step of your play. The advantage you strive for is so small that if you give it up on any level, it's hard to win." It should be noted that he and his partner, identified in the book as D.A., started with $15,000 and initially ranged their bets between $30 and $180.
Perfect card-counters play at maybe a 1.25 percent edge on money churned through per hour. So if your average bet is $100 and you can get in 100 hands per hour, your expected return is $125 per hour over a long period of time. In the short run, however, profits and losses can be all over the chart. Therefore, Tilton explains, "You need the fortitude to know that the results will be there as long as you can apply the craft over and over again."
Tilton and D.A. learned to play by taking private lessons from MIT blackjack team superstars Mike Aponte and Semyon Dukach (on separate occasions). Before they played a single hand in the casino, Tilton and D.A. put themselves through rigorous practice sessions and tests. First they learned basic strategy, which is the standard way of playing every possible hand and it brings the casino advantage to below 0.5 percent. Once that was rock-solid, they turned to card counting. (It involves watching all the cards that are dealt and giving values of 1, 0, or negative 1 to each exposed card. This tells you how advantageous the coming hand will be and dictates the amount that you bet.) And finally, they memorized over 100 deviations to basic strategy that are based on the count. For example, you would not normally double down on 9 vs. the dealer's 2. But if the count is 1 or higher, Tilton and his partner would. Perfect all of that, employ techniques to mask that you are card counting (Tilton outlines a variety of these in his book) and you're off to the races.
During their first year, Tilton and D.A. doubled their bankroll. Within three years, supplemented by small infusions of their own money, they built it up to six figures and raised their betting spread along the way. Despite the success and the fact that they could have ramped up the hours and maybe gone fulltime at blackjack, they always maintained their day jobs. Tilton viewed blackjack as a profitable hobby that made life interesting and, thanks to a plethora of casino comps, allowed him to live fatter than he ordinarily could. "You get to go away on weekends, stay in nice hotels, get great fight tickets and challenge your mind," he says. "There is something nice about leaving behind your everyday life on a Friday afternoon and entering a new world at McCarron Airport where a limo driver waits for you. The experience of that is indescribable."
You must be logged in to post a comment.
Log In If You're Already Registered At Cigar Aficionado Online