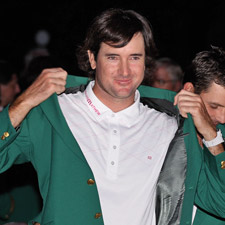 Scott Halleran/Getty Images
Watson dons the coveted green jacket at the 2012 Masters.
Bubba Golf
Masters Champion Bubba Watson is the PGA Tour's latest superstar, but don't think for a minute fame will change him
(continued from page 4)
"Bubba is a very interesting man," says Fisher. "He's child-like, not childish. He's serious when he needs to be."
Watson has always had a charitable heart. He has been a long-time sponsor of the Divot Derby, a junior tournament in Pensacola. He gave $50,000 to build a playground at the Ronald McDonald House in Pensacola. He's been associated with Birdies for the Brave, an organization that helps wounded war veterans. Before 2012 started Watson established Bubba and Friends Drive to a Million in association with his equipment maker PING to raise $1 million for various charities. PING donates money for every drive Watson hits over 300 yards with his pink-shafted driver. He also has charitable work going with his apparel company, Travis Mathew. During the Masters he wore the same outfit each day, a white shirt with pink accents and white pants. Mathew made 100 of the outfits available for $200 each with all money going to charity. They sold in a flash, crashing the company's website in the process.
"Somehow this year I've just played great. Now I'm the Masters champ," says Watson. "But the other stuff is what I really want to be a big impact [on] and we are doing the Bubba Bash where 10 artists are putting on a concert to build a medical clinic in Africa. So that stuff is more important to me. Right now, with this platform that I have of winning the Masters, it's going to give me a better chance to raise good dollars for cancer, for the center in Africa and different things."
Monster golf, creative golf, charitable work, fun. And now a new baby, Caleb. That's Bubba's life, that's Bubba Golf.
"I've never let golf ruin my life," says Watson. "You are talking to someone that's goofy and messed up in the head. So I'm different than everybody else."
Jeff Williams is a contributing editor of Cigar Aficionado.
You must be logged in to post a comment.
Log In If You're Already Registered At Cigar Aficionado Online