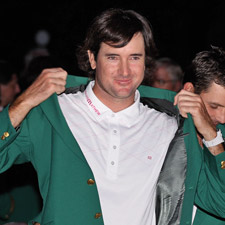 Scott Halleran/Getty Images
Watson dons the coveted green jacket at the 2012 Masters.
Bubba Golf
Masters Champion Bubba Watson is the PGA Tour's latest superstar, but don't think for a minute fame will change him
(continued from page 3)
In 2009 he made the choice, out of the blue to Beck, to hire Andrew Fisher as his personal trainer and nutritionist. He didn't need a swing coach, but he determined he needed a body coach. "Give Fish some credit for Bubba's success," says Beck. "Don't underestimate what he's done for Bubba. He's very, very good at reading Bubba."
Fisher is a graduate of Fairmont State University where he studied therapeutics and nutrition. He also got himself trained as a massage therapist. With that background, he got this thing in his head about being a caddie, finding himself interested in the relationship between Tiger Woods and Steve Williams. He had no experience at hauling a bag, but he is educated in areas that the modern athlete is concerned about. He was able to pick up a bag here and there, including for Ryan Moore, a friend of Watson's. It was that relationship that led to Watson hiring him as his personal trainer, traveling with him to every event.
Watson was well over 200 pounds when he hired Fisher, who immediately changed his diet and developed a conditioning program that included massage. He took Watson's weight down to the high 180s, and gave his body shape. That shape, says Fisher, is a competitive advantage.
"You look at Tiger and what he did to his body," says Fisher. "He didn't do that just for strength. There is an intimidation factor in looking strong, being cut. That's what we wanted to do for Bubba. To change the inner game we wanted to change the outer game, to get some of that intimidation factor. He's got that now, and he's stronger now than he was when he was heavier. He can recruit more strength now."
Physical conditioning is part of the whole mentality of Watson's cadre. "There are times when we are in a workout facility when Angie is training next to him, Ted is next to her, Jens is next to him. I don't know of another player who has that sort of support when it comes to conditioning."
But as Fisher well knows, it isn't all about golf for Bubba Watson.
"I have a blast with Bubba. He's a man who really enjoys life," says Fisher. "Golf is something we do between having fun."
Fun for Bubba Watson is music, especially that sector of rap music that has a more wholesome quality. He's combining that love with a charitable endeavor in Columbus, Ohio, this May called Bubba's Bash. There, performers such as Trip Lee, Toby Mae, Canon and Jamie Grace will be on the card as Watson raises funds for a medical clinic in Liyavo, Kenya.
Fun for Watson is adding to his collection of athletic shoes, which exceeds 200 pairs. Fun is buying the original "General Lee" Dodge Charger that was used on the "Dukes of Hazzard" television show. He's got all the tapes from that show, too. Fun is tweeting, Jet Skiing, goofing with people.
Under the rules of the adoption process, his wife Angie had to stay in Florida with their new baby so she couldn't come to the Masters. Watson and Fisher went to a movie one night, and Fisher recalls a classic Bubba moment. They parked their car next to one in which a young couple was having what seemed an intense conversation. Bubba kept looking at them, smiling.
Looking and looking and looking, smiling and smiling and smiling. Then he pulled the car forward, stopped, looked back at them smiling. Then he drove away, came back, parked next to them again and smiled at them. It was unlikely they knew who he was, but eventually he got a smile out of them.
You must be logged in to post a comment.
Log In If You're Already Registered At Cigar Aficionado Online