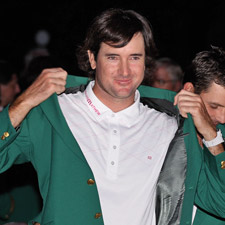 Scott Halleran/Getty Images
Watson dons the coveted green jacket at the 2012 Masters.
Bubba Golf
Masters Champion Bubba Watson is the PGA Tour's latest superstar, but don't think for a minute fame will change him
(continued from page 2)
"Angie is just an angel," says Beck. "She is a wonderfully calm and supporting person. Bubba is excitable, can get angry with himself. She totally gets the competitive nature of him. It would be difficult to find anyone else who could give him that level of support. She gets it. He doesn't have to explain himself to her, but of course he talks out everything with her."
Beck gives caddy Scott the credit for coming up with Bubba Golf (Watson says it's original to him), and Watson gives Scott credit for setting him straight during Jack Nicklaus' tournament in Columbus, Ohio, in 2010. There had been too much anger in his game. He didn't have the ability to leave the bad shot behind. He was becoming cross, and Scott didn't like it. With Angie and Fisher close by, Scott told Watson that he would stop carrying his bag if he didn't get rid of his baggage. "My caddie told me he was going to walk away from me, even though I was a good player," says Watson. "It hit home."
As a teenager, Watson was excitable, rambunctious. Nothing out of the ordinary, but he did have a buzz going on. Hiram Cook, a family friend and owner of the Stonebrook Golf Course in Pace, Florida, a course Watson grew up playing, remembers Watson as highly talented and highly charged.
"Bubba was a typical teenager," says Cook. "He was friends with my kids and would be over to the house a lot. They were kids who sometimes did things you didn't want them to do, but nothing bad. Bubba once ran through a plate glass door at my house trying to run out to the swimming pool. He just shattered the thing and put a pretty good bump on his head. But that's just kid stuff."
Cook knew that when it came to golf, Watson was something special. "Bubba is a unique individual. He attended some clinics for kids but I don't think he ever had an individual lesson," says Cook. "He was a really talented young man and he was able to figure things out for himself. His father would pick my brain about things, but Bubba's swing is his own. He was always bigger than most of the other kids. At 12, 13 he was hitting way past kids three and four years older and beating them."
Watson hit a lot of golf balls, plastic and otherwise, during his high school years. He didn't particularly enjoy hitting the books. Chris Hack, his coach at the University of Georgia, was familiar with Watson from his time as director of the American Junior Golf Association. He wanted Watson to come to Georgia, but he didn't have the grades. So he asked an acquaintance, Dr. Leo Kling, if he could get Watson into Faulkner State Community College in Alabama, where Kling was the golf coach.
"I'm a chemistry professor, not a swing coach," says Kling. "What I did for Bubba was get him to go to class. I didn't do anything for his golf because he had that figured out himself, but I needed to get him going to school. He was much more mature on the golf course than he was off of it. But he did a lot of growing up here, and he actually did quite well academically, certainly good enough to get him into Georgia. I must say he did like the physical sciences a lot more than he liked English lit.
"I knew he had a lot of talent, enough talent to play on the PGA Tour. What I didn't know was if he had the control of his mind and his attitude. That was the big question, and I think he has answered that quite well. I know Angie and his caddie have had a lot to do with it."
Kling recalls a precious golf moment. He was with his team practicing on the range, and there was a friend of Kling's battling with his driver. "I asked Bubba to show the guy how to hit a driver. He hits one normal, well over 300 yards. This guy was right-handed, so he takes the guy's driver, turns it upside down to swing left-handed and probably hit it 280. He turns to my friend and says, 'It obviously wasn't the club.' Classic Bubba."
The classic Bubba, the Bubba of Bubba Golf is freewheeling and fun loving, but serious about his golf, his commitment to charitable work and to his Christian faith.
You must be logged in to post a comment.
Log In If You're Already Registered At Cigar Aficionado Online