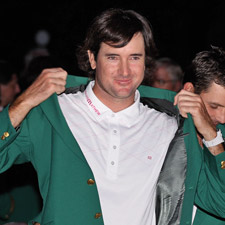 Scott Halleran/Getty Images
Watson dons the coveted green jacket at the 2012 Masters.
Bubba Golf
Masters Champion Bubba Watson is the PGA Tour's latest superstar, but don't think for a minute fame will change him
(continued from page 1)
Watson's golf swing is a product of his backyard and the public courses of the Pensacola area. The shot that won the Masters was no more than he had been doing since his youth. With nothing more than a 9-iron and some plastic golf balls, Watson had been maneuvering golf balls around trees and the corners of the house since he was a little boy. Actually, he was never little, the Bubba nickname coming from his father when, as a rather large newborn, Gerry Sr. saw him as a Bubba, not a baby.
"Let's go back to Bagdad, Florida, where I grew up," says Watson. "The big, tall 100-year-old trees. I had plastic golf balls, so I learned to hit in the trees, through the trees, over the trees, under the trees. So when it comes to the creativity on the golf course, that's just who I am. That's just what I've done. So that doesn't scare me. It thrills me because then I can pull off some shots. That's more exciting."
In the early evening of April 8, the sun setting through the magnificent pines of the Augusta National Golf Club, Watson put himself into a playoff with Oosthuizen, who himself had hit one of the legendary shots of the Masters when he holed out from fairway on the par 5 second hole for a double eagle 2. Watson had birdied four straight holes from the 13th through the 16th to finish tied with Oosthuizen and they each made par on the 18th, the first playoff hole.
Now they would go to the 10th hole, where Watson had saved par from the right woods in regulation.
Back at the clubhouse, his close PGA Tour friends Ben Crane, Rickie Fowler and Aaron Baddeley had stuck around to watch on television, but now felt they needed to be on the course. Watson, Crane, Fowler and Hunter Mahan were part of the "Golf Boys" rap group that made a viral music video "Oh, Oh, Oh" in 2011 to raise money for charity.
"Rickie and I were in the caddie area watching Bubba with four holes to play," says Crane. "Rickie was in his casual clothes and I said, 'Buddy, you'd better change. You'd better look presentable if we go out . . . We knew the situation. We knew that Angie was at home, she wasn't able to come out because of the situation with their baby, so we just wanted to go out and support our friend who we love. So we talked a member into giving us a ride down [to the 10th green, where Baddeley had made his way as well].
From their spot behind the 10th green, they knew Watson was in the woods, but he was so deep that they couldn't see him. Watson couldn't see them, or the green, either. "The shot was roughly 40 yards [of draw]," says Watson, who chose a 52-yard wedge. "I knew I could make it come out hot, just rolled my wrist over and hooked it about 40 yards. For me, it was just something as a child I was used to seeing shots like that, so I pulled it off."
Crane, Fowler and Baddeley heard the shot, but didn't see it at first. "We heard him hit the shot. I'm like, oh gosh, is that right at us? You always think the ball is coming at you, right? I'm going oh boy, this is way off line, and all of the sudden it put on a blinker. I wasn't watching the ball at this point. I'm just ducking. And then all of the sudden people started clapping. I'm like, what? I look up and see the ball, like oh my gosh. It will be one of the greatest shots of our era. Just an incredible shot."
It was Bubbalicious, if you like.
Watson's extraordinary talent is supported by a small, close-knit cadre of family and friends, and starts with his wife Angie, a former University of Georgia basketball player who at 6'4" has him by an inch. It includes caddie Ted Scott, who he hooked up with in 2006 after an introduction by Crane, trainer and nutritionist Andrew Fisher, who he hired after the PGA in 2009 (which he lost in the playoff to Martin Kaymer) and his agent Beck. There is no swing coach and never has been.
You must be logged in to post a comment.
Log In If You're Already Registered At Cigar Aficionado Online