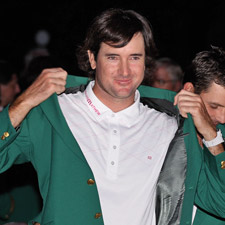 Scott Halleran/Getty Images
Watson dons the coveted green jacket at the 2012 Masters.
Bubba Golf
Masters Champion Bubba Watson is the PGA Tour's latest superstar, but don't think for a minute fame will change him
Bubba Watson isn't afraid to cry.
Bubba Watson isn't afraid NOT to have a coach.
Bubba Watson isn't afraid to go on the "Ellen Degeneres Show."
So when he found himself 20 yards into the woods to the right of the 10th fairway at Augusta National Golf Club with the Masters green jacket on the line, what would be the big deal about hooking a wedge 40 yards onto the green? This, after all, would be nothing more than Bubba Golf. "If I've got a swing, I've got a shot," Bubba Watson says.
When Watson pulled off one of the most spectacular shots in golf history this April, leading to his play-off victory over Louis Oosthuizen and his first major championship, he went from PGA Tour star to supernova. Bubba from Bagdad, Florida, was now the toast of the town, whisked to New York to do the talk show circuit—Piers Morgan, David Letterman, Charlie Rose—where he was celebrated for his unique swing and freedom of spirit.
And all along, he cried. He cried with his mother Mollie on the 10th green at Augusta. He cried on an interview the next morning on the Golf Channel. And he had been crying tears of joy for days before coming to Augusta when, after four years of uncertainty and heartbreak, he and his wife Angie had been able to adopt a baby boy, Caleb.
This willingness to be so openly human, his supersonic golf swing, his love of music, charitable work and the social media (he's a prolific tweeter), have made him a new face of the PGA Tour and one of its major attractions. He describes himself, endearingly, as "awesome." And hey, he's left- handed. It's all these attributes taken together that make up the persona of Bubba Golf.
"Bubba Golf just doesn't stand for the way he plays the game, but how he lives his life," says his agent and friend Jens Beck. "It's doing everything with an enormous passion. It's a description of his lifestyle. We don't try to script him, to try to mold him into this concept of Bubba Golf. We just let him be who he is, and who he is connects with so many people in a genuine way."
"I'm just Bubba from Bagdad, Florida," says Watson two weeks after his Masters victory at the Zurich Classic of New Orleans. "For me, I think that resonates with everybody because I'm from a small town. I played golf on public golf courses growing up and I think everybody can see that. Everybody can see that my swing is homegrown. That means everybody has a chance to do it. Hard work, dedication, practice and the drive to do it and not worry about what other people say."
Bubba from Bagdad is the son of a former Army Green Beret who served in Vietnam and a mother who worked two jobs. His father died in October of 2010, having battled throat cancer long enough to be able to watch his son win his first PGA Tour event at the Travelers Championship and his first appearance on the U.S. Ryder Cup team. He is a product of Milton High School (which also produced PGA players Boo Weekly and Heath Slocum), of Faulkner State Community College in Alabama, of the University of Georgia and of the Nationwide Tour.  
You must be logged in to post a comment.
Log In If You're Already Registered At Cigar Aficionado Online