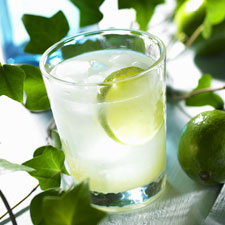 Gentlemen, Start Your Gimlets!
(continued from page 1)
In you're in an establishment with a so-called bar chef, you may have to make sure he goes the Rose's route and doesn't try to trick it out with the aforementioned fresh lime and simple syrup. If you're in a lesser saloon, be careful that the drinks-slinger doesn't try to slip you some vodka in place of gin…unless that's what you want, but that has another name: Vodka Gimlet. If that's what you want, order it that way.
As when building Manhattans, you should keep in mind the spirit brand you're using when determining the proportions. Such fuller-flavored gins as Tanqueray and Beefeater's can handle more lime juice. The new style lighter gins like Bombay, you don't want to swamp with too much citrus. If you're braving Dutch-style gins, ramp up the Rose's.
Of course, our prescriptive of serving straight up is only a guideline. If having the ice right in the glass makes it for you, so be it. After all this a drink made to cool you off and can stand some dilution, which is more than we can say for milk.
Gin Gimlet
3-5 parts gin
1 part Rose's Lime Juice
lime wheel garnish
Shake gin and Rose's with ice, strain into a cocktail glass or pour over ice in an Old-Fashioned glass. Add garnish.
Comments
2 comment(s)
Andrew Sobota — King George, VA, USA, — May 26, 2012 8:27pm ET
---
Robin Kaufman — Toronto, Ontario, Canada, — May 29, 2012 2:53am ET
---
You must be logged in to post a comment.
Log In If You're Already Registered At Cigar Aficionado Online