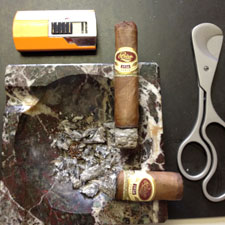 At the wire: the Bettridge cigar (bottom right) wins in a walk.
Speedy Smokes for Derby Day
(continued from page 1)
In the spirit of competition (and so as to not waste any precious tobacco) Bettridge pulled back the band and kept riding. The sportsmanlike move afforded him an extra five minutes of smoking, even as he singed his finger tips a bit.
Still, Bettridge easily beat Savona, who finally pulled in at 36:23, almost a minute and a half longer than the previous standard referenced by Padrón himself.
A gracious winner, Bettridge offered to go again with more Juleps and the same smoke (this time with a maduro wrapper). Cooler heads prevailed, however, and it was agreed to continue the competition at the running of the Preakness (in two weeks time), using a rye whiskey drink in salute to Maryland's historical spirit.
Of course, Padrón is not the only maker of quality short smokes.
What follows is a list of short cigars (most around 4 inches long, each scoring 90 points or more in the last year) that you might enjoy with a very quick race.
Outstanding Short Smokes
Rated in past 12 months, Cigar Aficionado and Cigar Insider
Comments
1 comment(s)
Kenny L. — Oldeminence, KY, United States, — May 7, 2012 4:40pm ET
---
You must be logged in to post a comment.
Log In If You're Already Registered At Cigar Aficionado Online