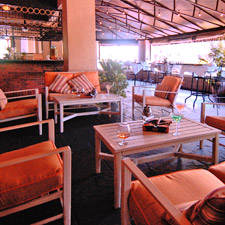 The recently renovated patio area at Charley's is smoke-friendly.
Charley's Steak House, Orlando, Florida
(continued from page 1)
After my last bite, I reached for my cigar, a La Aroma de Cuba Mi Amor Belicoso, our No. 2 cigar of the year. I lit it on fire, blew out a puff of smoke, and ordered a Cognac to accompany the cigar. There were other diners around, none of them smoking, but no one complained.
This isn't the only Charley's Steak House, which is part of the Talk of the Town Restaurant Group. There's another in Orlando, one in Kissimmee and one in Tampa. You should expect the same level of steak from each place, and each one sells cigars, but the Charley's on International Drive is the only one that has a spot for smoking and dining, something that has become all too rare in today's world.
Charley's Steak House
8255 International Drive
Orlando, Florida 32819
(407) 363-0228
Sunday - Thursday: 5:00 p.m. to 10:30 p.m.
Friday - Saturday: 5:00 pm to 11:00 p.m.
Comments
2 comment(s)
Kyle S — Nashville, TN, USA, — May 4, 2012 9:10am ET
---
levrac68@yahoo.com — May 5, 2012 6:11pm ET
---
You must be logged in to post a comment.
Log In If You're Already Registered At Cigar Aficionado Online