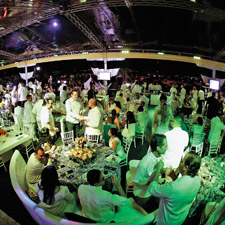 ProCigar's White Party was one of three dinners held in Santiago during the festival.
A Celebration of Premium Cigars in the Dominican Republic
February's ProCigar festival lit up the Dominican Republic as cigar enthusiasts from all over the world came to the Caribbean country for complete immersion in Dominican cigar culture.
From factory tours to field trips to cigar seminars to gala dinners, the attendees traversed cigar country, going from the coast of La Romana to the mountain regions of Santiago's foothill tobacco farms and some of the most prolific cigar factories in the entire industry.
ProCigar put on its fifth annual festival and saw a record turnout, with attendance up 40 percent from last year's show. There were 250 attendees—the festival's official capacity.
"We are more interested in face-to-face interaction than we are standing in front of thousands of people behind a podium," says Manuel Quesada, the owner of Manufactura de Tabacos S.A. (Matasa). He says having a familial feel is integral to the festival experience.
ProCigar consists of member companies Altadis U.S.A. Inc., Corporación Cigar Export, Davidoff of Geneva, General Cigar Co., La Aurora S.A., Matasa and Tabaquisa S.A., and was recently rejoined by founding member Tabacalera A. Fuente y Cia.
"This year, we have very good news," announced ProCigar president Hendrik Kelner at the festival's press conference.
"Tabacalera Fuente has come back to ProCigar. Fuente has been here since the first day and was one of the founding members. Now, ProCigar is a stronger association."
Kelner added that the Dominican Republic is the largest exporter of premium cigars in the world (around 200 million cigars for 2011) and that the cigar industry employs 75,000 people in the country between the agricultural and industrial aspects of the business.
"Tobacco is the true founding father of our country," Kelner said.
The festival itself was a series of primarily cigar-centric day trips that ended each night with a dinner where one could rub elbows with the luminaries of the Dominican Republic's cigar industry. Several special cigars were passed out during the dinners, like the 6-inch by 60-ring Quesada Q d'Etat Howitzer and the Aurora 107 Sumo, a short, fat robusto-size smoke. Though most of the daytime activities revolved around cigars, other options such as snorkeling trips out of Puerto Plata, beach outings on the sands of Playa Dorada or rafting the waters of the Yaque del Norte River were also offered in the package.
The activities began on February 19 in La Romana, where guests could partake in a golf tournament before touring Altadis U.S.A.'s Tabacalera de Garcia facility, the largest cigar factory in the Dominican Republic and the producer of Romeo y Julieta, Montecristo and H. Upmann.
After being shuttled from La Romana to Santiago, attendees had the option to tour cigar factories (Davidoff, Corporación Cigar Export, General Cigar, La Aurora, Matasa) or visit tobacco fields in Jicomé and Mao. Some of the factory tours, such as General's and Davidoff's, included interactive rolling and blending seminars, and Matasanm conducted a tasting of tobacco components and a sampling of the Nat Sherman Timeless, a cigar that Matasa makes under contract.
After each day's activity, there was a dinner, each held at a different location and each with a different theme. One evening explored the traditional foods of the Dominican Republic and peaked with a meringue competition. The second dinner—the White Dinner—was held at the Monumento a los Héroes de la Restauración, a large, hilltop marble monument in Santiago.
This was something of an honor for both the guests and the industry as ProCigar is the only organization in the entire country allowed to hold dinner events on these premises. Cigars such as the Davidoff White Label 2012 Limited Edition, Fuente Fuente OpusX BBMF and General Cigar's Special Blend #7 were passed out.
Dinner on the last night was held at Santiago's Centro Español. It was a formal affair with a live auction whose 10 lots of rare humidors and cigars raised $65,000 for charity—the entire festival raised $85,000 total. In an unexpected gesture of last-minute generosity, rum producer Bacardi donated an additional $1 million to ProCigar, who in turn gifted the money to The Children's Heart Foundation.
ProCigar is an association of Dominican cigar manufacturers dedicated to maintaining the high-quality standards of the Dominican Republic's premium cigar industry as well as communicating the mission and culture of the region's cigar industry to the rest of the world.
You must be logged in to post a comment.
Log in if you're already registered.
---
---
Search our database of more than 17,000 cigar tasting notes by score, brand, country, size, price range, year, wrapper and more, plus add your favorites to your Personal Humidor.
---
---