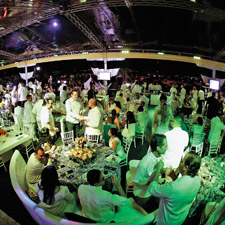 ProCigar's White Party was one of three dinners held in Santiago during the festival.
A Celebration of Premium Cigars in the Dominican Republic
February's ProCigar festival lit up the Dominican Republic as cigar enthusiasts from all over the world came to the Caribbean country for complete immersion in Dominican cigar culture.
From factory tours to field trips to cigar seminars to gala dinners, the attendees traversed cigar country, going from the coast of La Romana to the mountain regions of Santiago's foothill tobacco farms and some of the most prolific cigar factories in the entire industry.
ProCigar put on its fifth annual festival and saw a record turnout, with attendance up 40 percent from last year's show. There were 250 attendees—the festival's official capacity.
"We are more interested in face-to-face interaction than we are standing in front of thousands of people behind a podium," says Manuel Quesada, the owner of Manufactura de Tabacos S.A. (Matasa). He says having a familial feel is integral to the festival experience.
ProCigar consists of member companies Altadis U.S.A. Inc., Corporación Cigar Export, Davidoff of Geneva, General Cigar Co., La Aurora S.A., Matasa and Tabaquisa S.A., and was recently rejoined by founding member Tabacalera A. Fuente y Cia.
"This year, we have very good news," announced ProCigar president Hendrik Kelner at the festival's press conference.
"Tabacalera Fuente has come back to ProCigar. Fuente has been here since the first day and was one of the founding members. Now, ProCigar is a stronger association."
Kelner added that the Dominican Republic is the largest exporter of premium cigars in the world (around 200 million cigars for 2011) and that the cigar industry employs 75,000 people in the country between the agricultural and industrial aspects of the business.
"Tobacco is the true founding father of our country," Kelner said.
The festival itself was a series of primarily cigar-centric day trips that ended each night with a dinner where one could rub elbows with the luminaries of the Dominican Republic's cigar industry. Several special cigars were passed out during the dinners, like the 6-inch by 60-ring Quesada Q d'Etat Howitzer and the Aurora 107 Sumo, a short, fat robusto-size smoke. Though most of the daytime activities revolved around cigars, other options such as snorkeling trips out of Puerto Plata, beach outings on the sands of Playa Dorada or rafting the waters of the Yaque del Norte River were also offered in the package.
You must be logged in to post a comment.
Log In If You're Already Registered At Cigar Aficionado Online