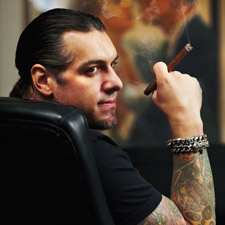 Straight Talking with Pete Johnson
The creative mind behind Tatuaje tells Cigar Aficionado what drives him forward
(continued from page 2)
Q: Let's talk about your relationship with the Garcias.
A: They're like family. We kind of grew up with each other. We really made a life for ourselves by doing something together. They give me credit all the time and it's a two-way street. I praise what they do. I think they're phenomenal cigarmakers, and they take the time to teach me. They took the time to actually explain the history of what they did, and why they roll the way they roll. That's why I made a commitment to work with them only.
Q: Tatuaje is a huge success. It was named the hottest brand in America in 2009 by Cigar Insider. And you're selling more cigars than you used to. How many cigars are you making now?
A: Worldwide? Just under two million.
Tatuaje is the majority. I do just under 400,000 in Miami, with the small amount of rollers they have there. All the rest is Nicaragua. And surprisingly enough we do it with three people in the office: one guy on the computer, two packing and me on the road. I increase 12 to 15 percent every year, comfortably. I like slow growth.
Q: Some would say 12 to 15 percent growth isn't that slow.
A: (Laughs) Yeah, I know. It's a comfortable growth level though.
Q: How big do you see this getting in the foreseeable future?
A: I don't know. I don't think I want to make over three million cigars. That seems a lot for what I want to do. I'm on the road a lot. Retail events. There's so many people coming out with new brands and there's a lot of great ones coming out. Even now I have to step up my game to make sure my brand stays viable. That's probably also the reason why I have so many brands. I wanted to build not just a Tatuaje book, I wanted to build a portfolio of old brands, and I've been lucky to get a lot of old brands that weren't registered, and I've been able to snatch them up and get the artwork. El Triunfador is an old brand, La Riqueza, Fausto. Most of them were chinchalle brands. I try to pay tribute to what they might have been back in the old days.
Q: One of the things your success has allowed you to do is push the boundaries of tradition. Talk about what you've done with cigars like La Vérité.
A: La Vérité was really my way of not trying to bullshit people. That's why it's called "the truth." I wanted to see if it could be done. It's one farm, one year, truest form of a puro, and it's really to see how tobacco will age. The key is fermentation. Simple. If you don't have good fermentation or you just didn't finish the fermentation, you're not going to be able to put that tobacco in a cigar and really have it taste right. Or age right. There are some people who take tobacco and age it for years before they start using it, but as long as you have that first fermentation, you can start using it immediately. So my point with Vérité was the tobacco is ready, it's clean, there's nothing bad left in it that's going to make it taste wet or grassy or whatever, or filled with ammonia, let's put it in the cigar and let it age gracefully in the cigar, and it will hold the strength levels longer.
Q: You have great cigars, you've built a huge success—is there something you haven't done that you want to do in the future?
A: In cigars, I don't think I have much more to offer. You can't come out with something new now. I don't think there are more tricks that no one has seen before. But I also want to do wine one day. I'm doing my own wine in Bordeaux right now—just a barrel. I started with 2011, which isn't a great year.
Q: You're working with a winery?
A: It's a small château, you can pick the grapes, be part of the whole process if you get in early. I'm in late, so I'm adopting juice and going there in April to do my blend of three parcels in St. Emilion. It's a personal project for me, it's so I can see if I know what a good wine is. One day, I actually want to have a vineyard. That's the one thing I'm really curious about.
Q: Why St. Emilion?
A: I go there every year. That's vacation for me. I have good friends in the industry. I like that style more than I do left bank. I like right bank wines. I decided to work with those grapes first.
Q: So 10 years from now we might see the debut of Tatuaje wine?
A: Yeah. One day. I've been very fortunate. One of my keys to success in this industry is I had good people who taught me. I had good mentors. I think it's a privilege, and working with these great people has taught me great lessons in this industry.
Comments
11 comment(s)
Dgrover1122@hotmail.com — July 10, 2012 12:01pm ET
---
info@lacasadelhabano.lu — July 11, 2012 5:46am ET
---
Toar — Simi Valley, Ca, — July 11, 2012 10:14am ET
---
John Davidson — Lakeside, Ca, United States, — July 13, 2012 7:50am ET
---
iMrk71@gmail.com — July 13, 2012 2:37pm ET
---
Tim C. — July 13, 2012 4:14pm ET
---
Jason Simpson — Rockwall, Texas, USA, — July 16, 2012 8:40pm ET
---
PETE JOHNSON — LOS ANGELES, CA, UNITED STATES, — July 18, 2012 10:47am ET
---
Alex Anderl — Crystal Lake, Illinois, United States of America, — July 29, 2012 6:20pm ET
---
Gary Bazdell — Ottawa, ON, Canada, — August 14, 2012 6:29pm ET
---
Dwayne Campbell — Pickering, Ontario, Canada, — August 29, 2012 9:26am ET
---
You must be logged in to post a comment.
Log In If You're Already Registered At Cigar Aficionado Online