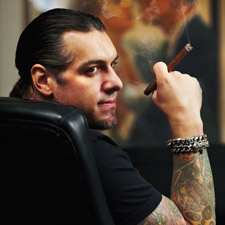 Straight Talking with Pete Johnson
The creative mind behind Tatuaje tells Cigar Aficionado what drives him forward
(continued from page 1)
Q: You were still at Grand Havana when you started Tatuaje?
A: It wasn't like I was printing money back then. It was a nice slow start. But after you guys did the Top 25 the second year, I was No. 4. Well, that year at the trade show, I couldn't move.
Q: Let's go back to the start of Tatuaje. How long was it in the back of your mind to make your own cigar brand?
A: I always wanted to do it. A friend of mine in the business, Ben Gehrman, had started working for Tropical. He said, "We got a guy who might be able to make you a cigar." The first samples they sent me I thought were horrible. They showed up in Los Angeles in April 2003, and some guy named José Garcia, who they called Pepin, was there. He asked me in Spanish what I liked, and I said make me something on the stronger side. I still didn't like them. We started a conversation about what he knew about Cuba, where he was from and that turned into me going to get a Cuban cigar out of my stash that I knew was smoking good at the time. He looked at me and he said, "You want one like this?" I said, "Do what you do best."
Q: Did he make one on the spot?
A: Yeah. And it was great. He understood Cuban cigars better than what other people were making outside of Cuba. As soon as he tasted that Cuban he said, "This one's easy."
Q: How long did it take to go from that first meeting with Pepin to getting a product on the shelf?
A: They started rolling them right away. They were in a small space in another person's warehouse. And the first dates on my boxes were May.  
Q: That was quick.
A: I remember going down to the warehouse. It was Pepin, Jaime [Pepin's son], Janny [Pepin's daughter], Pepin's wife Maria, and Jaime's wife Danny. It was all family. But Jaime was also in charge of making sure the packing was right.
Q: So what do you do with those first cigars?
A: I had 50 boxes of each size. Originally I wasn't going to put a band on it, but people said name recognition is everything. So I came out with that thin, ugly brown band. I didn't want to take away from what was beautiful, the cigar itself. I didn't know where I was going to sell them. Thanks to Stan Shuster, I was able to sell them in the [Grand Havana] clubs. That was June.
Q: How was the reception?
A: It was different. People dug the unique character of it. And when I went to the trade show I borrowed space from Cyril Brizard. I put my price list on top of a humidor and I walked away, 'cause I had to do my job for Grand Havana. And as I was walking around I would see friends who were running stores, and I would say, "Try this cigar and tell me what you think." I think I left the show with five orders.
Q: We have to talk about the name Tatuaje.
A: The name came about because Robby Levin, Carlos Fuente, Wayne Suarez, they all gave me the name "Tattoo Pete." I had tattoos, but my OpusX tattoo really stood out. I kept on looking at different brand names, then I thought "let's try Tatuaje." People said you can't pronounce the word, but I think it worked to my advantage. People would say, "do you have those Tats? Do you have those tattoo cigars?" My first rating was the following trade show and I got a 90. That was a big deal for me. Every week I would pick up a new account, slowly, slowly, slowly, and I walked into the trade show in 2006 with 125 accounts, and I walked out with 350.
Q: That was a result of your excellent showing in the Top 25?
A: That really killed it for me. I could not move. I was stuck in my booth. I was stuck against the table the whole day. I didn't have enough product. There were times, early on, when the factory [in Miami] would call me and say, "Pete, we need you to order some more cigars." I said, "Be patient." But after the whole craze of the ratings and everything I would call the factory every week—I need more of this and more of this and more of this.
Q: When did you realize you could make a full-time business out of your cigar brand?
A: In 2003 it was a hobby. In 2004 it started to become a business. In 2006 I said I should do this full time, or I shouldn't do it at all. I realized I had something.
Q: Your first cigars all came from Pepin's factory in Miami. Can you talk about the expansion into Nicaragua?
A: I knew I needed to do something different. I couldn't get away with the seven [Tatuaje sizes] and the four Cabaiguans I had in Miami. It wasn't enough. I knew I had to do something with the Tatuaje line because that's what people wanted. But I didn't want to just take the brown label [the original Tatuaje] and have that made in another country. So Tatuaje Havana VI [the red label, made in Nicaragua] had to prove itself.
Q: Did it take some time?
A: Everybody wanted the Miami cigars. But it's funny. I love the rollers in Miami, but I feel like some of the rollers down in Nicaragua are making better cigars. The Garcias are down in Nicaragua every week, and some of the rollers there are just amazing. Miami will still hold a soft spot, and Pepin told me, "I'll never stop making cigars in Miami, because this is the birthplace of Pepin Garcia."
Comments
11 comment(s)
Dgrover1122@hotmail.com — July 10, 2012 12:01pm ET
---
info@lacasadelhabano.lu — July 11, 2012 5:46am ET
---
Toar — Simi Valley, Ca, — July 11, 2012 10:14am ET
---
John Davidson — Lakeside, Ca, United States, — July 13, 2012 7:50am ET
---
iMrk71@gmail.com — July 13, 2012 2:37pm ET
---
Tim C. — July 13, 2012 4:14pm ET
---
Jason Simpson — Rockwall, Texas, USA, — July 16, 2012 8:40pm ET
---
PETE JOHNSON — LOS ANGELES, CA, UNITED STATES, — July 18, 2012 10:47am ET
---
Alex Anderl — Crystal Lake, Illinois, United States of America, — July 29, 2012 6:20pm ET
---
Gary Bazdell — Ottawa, ON, Canada, — August 14, 2012 6:29pm ET
---
Dwayne Campbell — Pickering, Ontario, Canada, — August 29, 2012 9:26am ET
---
You must be logged in to post a comment.
Log In If You're Already Registered At Cigar Aficionado Online