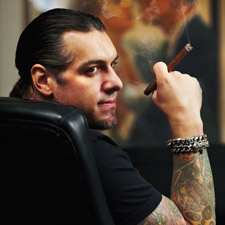 Straight Talking with Pete Johnson
The creative mind behind Tatuaje tells Cigar Aficionado what drives him forward
Pete Johnson has grown up in the cigar industry. The 41-year-old puffed his first premium cigar two decades ago while playing in a band, and soon his love of the leaf eclipsed his love for music. He quickly immersed himself in the cigar industry, forged friendships with major cigar makers and in 2003 created a cigar brand that he named Tatuaje, the Spanish word for tattoo. (Anyone who has seen his arms will instantly get the reference.)
Today, Tatuaje is one of the hottest cigar brands in America, with numerous scores of 90 points and higher. Johnson recently sat down over cigars and rum with senior editor David Savona for a long discussion about how he broke into the business and created such a memorable brand, as well as his plans for the future.
Cigar Aficionado: You're from Maine.
Johnson: Born and raised in Maine. Moved to Los Angeles when I was 18 to do music.
Q: You were a bassist?
A: Yeah, bass guitar. I didn't have a band. I just knew I needed to be in Los Angeles for the style of music I liked, which was Sunset Strip rock and roll. I was very green to L.A. Within a month I found a flyer for a band going on a small tour. We went on a short tour that got squashed after the first few shows. I think the tour manager ran out of money. We were getting kicked out of a lot of hotels. Later we played all the famous clubs, the Whisky, the Roxy. That was during the days when glam was really in. Grunge killed us all—that's when the Sunset Strip died. I think half the city of L.A. tried to move up to Seattle.
Q: Is that when you took up cigars?
A: I was smoking and playing on stage. I started carrying around my kit—I had my empty cigar box, my lighter, my cutter, and at band practice I would smoke.
Q: Do you remember your first cigar?
A: Premium? It was a Pleiades petit corona. I remember calling my girlfriend at the time and apologizing because I spent $2.50 on a cigar. That was a good cigar, creamy, sweet, smooth.
Q: Can you tell me about your first job in the cigar business?
A: You want the real story?
Q: Yeah.
A: I was working as a bouncer in a strip club. I had no money. I was shopping at Gus's Smoke Shop. I loved the whole feel of the industry and I really loved cigars. This guy named Dennis Spike recommended me [to owner Jimmy Hurwitz] in late 1993. They needed a part-time guy for Sundays to help in the humidor and mix pipe tobacco. Sundays turned into a full-time job within six months, and I became their chief cigar buyer. I would study the humidor. I managed to take that humidor and take it from very few facings into a lot of facings, because I figured out this tray system. I think I smoked everything. I would go through the humidor and smell every cigar so I could get the sense of what was Dominican, what was Nicaraguan, what was Honduran. I collected books, I had memorabilia up the wazoo. I have the two different versions of the original Cigar Aficionado, and I still have every issue. I found that I did cigars way better than music anyways. Everyone was really friendly to me, and people took to me. It was a very welcoming feeling. If you showed your enthusiasm toward this industry, people would say, "Hey c'mon kid, let's go."
Q: What came next?
A: I had left Gus's and stayed out of the retail business for six months. I visited cigar shops, factories. I actually tried to make a cigar back then, but it was impossible to find somebody who could make the brand.
Q: This was 1996?
A: Yes. Finally I said "I need a job." And The Big Easy picked me up. I was there about a year and a half. Then The Grand Havana Room was having an issue with their humidor. I got into a conversation with the owner, Stan Shuster. He told me he had this plan to open stores. He brought me in.
Q: How long were you with Grand Havana?
A: I started my brand in 2003, but I actually stayed on and worked both jobs until 2006.
Comments
11 comment(s)
Dgrover1122@hotmail.com — July 10, 2012 12:01pm ET
---
info@lacasadelhabano.lu — July 11, 2012 5:46am ET
---
Toar — Simi Valley, Ca, — July 11, 2012 10:14am ET
---
John Davidson — Lakeside, Ca, United States, — July 13, 2012 7:50am ET
---
iMrk71@gmail.com — July 13, 2012 2:37pm ET
---
Tim C. — July 13, 2012 4:14pm ET
---
Jason Simpson — Rockwall, Texas, USA, — July 16, 2012 8:40pm ET
---
PETE JOHNSON — LOS ANGELES, CA, UNITED STATES, — July 18, 2012 10:47am ET
---
Alex Anderl — Crystal Lake, Illinois, United States of America, — July 29, 2012 6:20pm ET
---
Gary Bazdell — Ottawa, ON, Canada, — August 14, 2012 6:29pm ET
---
Dwayne Campbell — Pickering, Ontario, Canada, — August 29, 2012 9:26am ET
---
You must be logged in to post a comment.
Log In If You're Already Registered At Cigar Aficionado Online