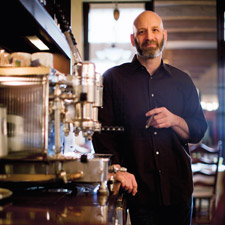 Chef Vetri discovered his love of cigars in the kitchen at the end of a long service when he would share smokes and stories with the other chefs.
Conducting a Culinary Symphony
Chef Marc Vetri Hits All the Right Notes in Philadelphia
(continued from page 6)
Squash lasagna with a ton of parmesan came with the entrees. So did roasted lamb with potatoes. A veal chop Milanese topped with arugula and parmesan rivaled the best ever tasted by anyone at the table. (Everyone then lost track after going into food comas.)
When the waiter came to inquire about dessert, he was threatened with bodily harm, but in the nicest way. So, Chef Spence sent out only two sweets: Tiramisu, a special that night; and "Mom-Mom's Rice Pudding," a recipe from Spence's grandmother. (Okay, the meal really should have started with the rice pudding. It was THAT good, yet no one could eat more than one bite of it.)
"Brad took the rice pudding off the menu once," Vetri explains. "Of course, several guests ordered it that night. Never again."
Spend just a little time with Marc Vetri and you will not worry about his losing touch with the kitchen, with the food or with what his customers like to eat. And it's not so much your father's Italian food. Unless it is.
About nine years ago, in the Vetri restaurant, when it was considerably more casual, Marc's father was having dinner on his birthday.
"So we put a red-and-white, checkered tablecloth on one table in the middle of the dining room," Marc Vetri remembers. When his father arrived with his party, "we put a big bowl of mussels and a big bowl of meatballs on the table." That kicked off a typical South Philly Italian-American meal.
"There were more than a few envious diners that night," Marc Vetri recalls, laughing fondly.
Sharing that moment makes it easy to imagine that not too long from now Chef Vetri, for whom "family and doing the right thing are what's important," will be back full time in the kitchen of his 30-seat restaurant in that famous Philadelphia townhouse. Still conducting. Still cooking.
"This is not only my dream restaurant," Vetri explains. "This is every chef's dream restaurant."

Alejandro Benes is a regular contributor to Cigar Aficionado.
You must be logged in to post a comment.
Log In If You're Already Registered At Cigar Aficionado Online