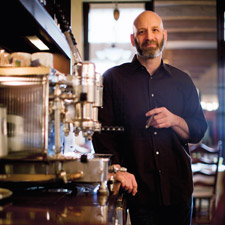 Chef Vetri discovered his love of cigars in the kitchen at the end of a long service when he would share smokes and stories with the other chefs.
Conducting a Culinary Symphony
Chef Marc Vetri Hits All the Right Notes in Philadelphia
(continued from page 5)
The second Vetri Family restaurant, Osteria, is "what Vetri [the first restaurant] began as," Marc Vetri says. Osteria's Michaud, the 2010 James Beard Award Winner for Best Chef, Mid-Atlantic (an award Marc Vetri won in 2005), cooked at Vetri before moving north on Broad Street.
Osteria is a relatively casual and bustling restaurant that is about four times the size of the first Vetri restaurant. On this particular night, Jeff Benjamin greets Ashton Cigar owner Robert Levin and his party. Ashton is based in Philadelphia.
"The only places I go to eat are Marc's restaurants," Levin explains. "I go to Osteria and Amis on a regular basis. I go to Vetri to celebrate special occasions."
Go to dinner with Levin and be prepared to eat, and even suffer a little for eating way too much. At Osteria, before anyone has looked at the menu, a special vegetable platter hits the table. Two pizzas are ordered, one of them topped with grilled octopus. Roast suckling pig, "brined for four days and spit-roasted for five hours," snapper and pastas make up the rest of the meal. No one ordered the pig head.
The night before, at Amis, Vetri's most casual restaurant, Levin's party arrived and immediately began to chat with Benjamin, who makes the rounds to the three restaurants every night, and Amis' chef Brad Spence. The Ashton crew took out cigars and started distributing them.
"Brad is the real cigar smoker," explains Benjamin. "He smokes more than Marc and me."
Before the party was barely seated, five appetizers arrived. Mortadella mousse, eggplant caponata, imported bufala ricotta and black pepper, cotechino salami with a red onion marmalade, and an endive and green apple salad with a lemon-thyme vinaigrette. The latter was the perfect three notes.
Benjamin brought out a 2007 nebbiolo that worked with every dish and on its own. At this juncture, a critical mistake was made by Levin and his guests. They began to order entrees.
"I always order too much," Levin says, shaking his head. "Then they send out more."
Somehow, swordfish meatballs with creamy polenta and pine nuts showed up, and so did Sal's (Marc's father) old school meatballs. Then the pastas came. Tonarelli with pecorino and black pepper; rotini with wild boar ragu and pears; paccheri (a large, short hollow tube noodle) with swordfish and eggplant fries; squid ink linguini with octopus and scallion. (But wait, there's more!)
You must be logged in to post a comment.
Log In If You're Already Registered At Cigar Aficionado Online